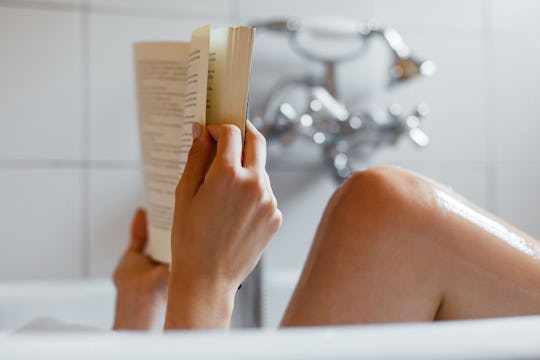 BONNINSTUDIO/Stocksy
21 Super Steamy Novels You Probably Don't Want To Read In Public
One of the best parts about reading is discussing the book with a friend later, delving into the details of the prose and arguing about your favorite characters. But there are some books you'd rather stay quiet about, like erotic novels that are too steamy for public reading. Only you and your bookshelf need to know about those.
I'm a huge proponent of romance novels, particularly because female voices control many of the narratives, which isn't the case in other types of books. White men are heralded as the epitome of talent in most canonical fiction, as Vulture pointed out, and books written by and for women are often made to seem less important than those for men. Likewise, BBC reported that male desires are depicted more often than those of women in pornography, again stifling women and perpetuating misconceptions about what they like sexually. Women writers dominate the romance genre, which creates a space for female identifying readers to explore their sexuality on their terms and allows for a greater exploration of the female experience.
But that still doesn't mean you want the whole world knowing you're reading an erotic novel, especially the really steamy ones. These 21 romantic novels are definitely X-rated, so maybe save them for a bubble bath or for a night you have the house to yourself.