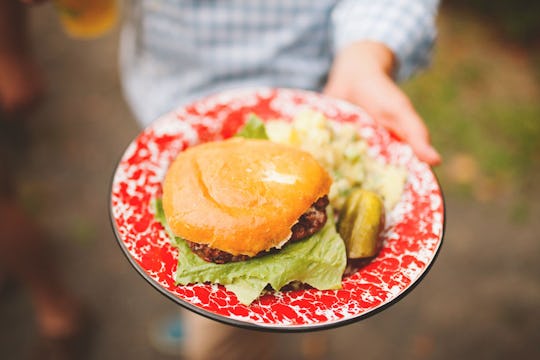 Nate & Amanda Howard/Stocksy
Trader Joe's Has Absolutely Everything You Need For The 4th Of July, & Then Some
I count myself among the many shoppers who consider Trader Joe's their second home. So when a major food holiday comes along, I make room in the schedule for a TJ's run, to get the products I know I won't be able to find anywhere else. Independence Day is no exception; Trader Joe's has plenty of food for July 4 that will guarantee a successful holiday feast, whether you're cooking just for immediate family or having your whole circle of friends over.
I hate crowds and packed parking lots, but I happily endure them at Trader Joe's because I know I'll come away with some great products at reasonable prices. The rotating seasonal selection is appealing, too; I browse their Fearless Flyer bulletin when it comes in the mail, saying "Ooh, that looks good!" about once every five seconds. Then there's the ever-patient and helpful staff, who really do go out of their way to make sure customers are satisfied.
I found these items on a recent trip to my local TJ's, all of which would be great for a holiday barbecue. Some are traditional cookout fare, while others are exclusive to the store. (All photos and pricing reflect the branch in Queens, NY.) For you last-minute shoppers, Trader Joe's will be open until 5:00 PM on July 4, which gives you just enough time to pick up your grill-ables and drinks before the guests arrive.