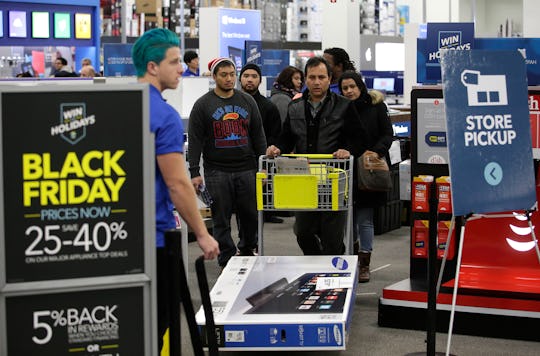 Joshua Lott/Getty Images News/Getty Images
23 Black Friday Memes To Help You Deal With The Madness
Black Friday is one of my favorite days of the year, even though I'm not a shopper who is willing to fight someone for a blender or leave my house for Walmart on Thanksgiving Day. But I like that it's the "official" start of the holiday season and that it means I get to hear my favorite Christmas carols while scoring some great deals on gifts. But the madness, and Black Friday memes that come from it, are abundant, because the chaos is unreal.
If you're one of those shoppers that's first in line for Best Buy or Target, then I salute you. I have no idea how you do it. I'm more of a "head into Macy's on Black Friday around 10 a.m." shopper, and I'm plenty happy with the chaos that ensues there. When stores used to actually open on Black Friday instead of Thanksgiving, my family and I were always first in line for Macy's opening at 5 a.m. Of course, there were no TVs to grab or hot toys to snatch as soon as you walked in the door. Instead, we wanted to grab the limited edition Disney snow globes Macy's used to pass out and were plenty satisfied. (But if you think my granny wasn't willing to throw a right hook to secure her Mickey Mouse Christmas decoration, then you're wrong.)
So no matter where you are on the Black Friday spectrum, if you're an online shopper or first in line for Walmart, these 23 Black Friday memes are sure to make you smile, nod in agreement, or maybe feel a little nervous because wow, that one meme sounds just like you.