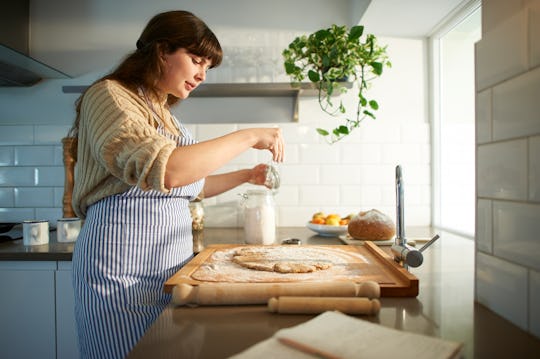 Dougal Waters/DigitalVision/Getty Images
23 Soothing Domestic Activities To Try When You're About To Lose Your Cool
When you think about ways to keep calm during high-stress times like these, things like long baths and deep breaths probably come to mind. But those aren't the only activities that can help you to feel more centered. In fact, there are lots of domestic activities that can calm your anxiety, according to moms, and you'll probably knock some chores off your to-do list in the process.
Now, no one is saying that scrubbing the toilet is going to alleviate all your stress or that seeing those pile of shoes right by the door is going to make you giddy. No, not at all. But indulging in some domestic duties can be downright therapeutic, especially since you're probably stuck in the house right now anyway. (No sweating out your stress at the gym or getting your retail therapy fix at the mall under quarantine.) "Part of why we feel so anxious is because of the uncertainty and lack of control we have," Shuli Sandler PsyD, a clinical psychologist, tells Romper. "Setting some home goals that you are in control of completing will reassure you that you have some control in your life and don't have to feel we are living in utter chaos."
Instead of mindlessly mopping the floor, or throwing together toys into the bin, try being more present as you go about your daily domestic duties. "Creating a clean and organized space can help ease some of the clutter of the mind," advises Sandler. These aren't the chores you do because you have to do them, these are the home-care activities you do because something about the simple, repetitive actions is grounding and soothing. And remember, domestic therapy isn't just for moms/women; if your partner comes down with the quarantine crabbies, by all means encourage him to pick up a broom and sweep the stress away (or whatever works to chill him out).