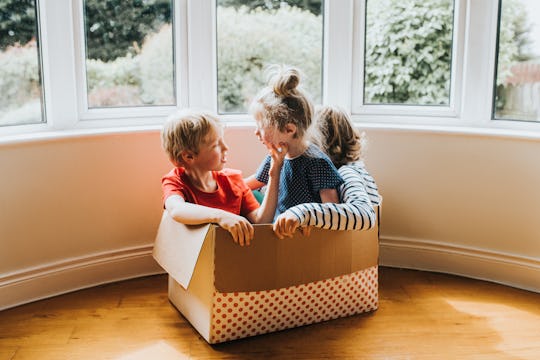 Catherine Falls Commercial / Getty
23 Kids Share What They Loved Most About Quarantine *Grabs A Tissue*
If you thought that all children hated quarantine, think again. Some young ones were living their best lives by being at home during the COVID-19 crisis. But as the transition back is underway, many children are going to miss, what was in their eyes, the perks of the pandemic. Here, 23 kids share what they loved most about quarantining at home with their family.
Of course, that's not to say that the coronavirus hasn't created chaos in all of our lives. But while parents scrambled to get face masks and wrap their heads around distance learning, many of our kids were, in turn, enjoying the benefits of being safe at home... and near the snacks. "The vast majority of children are adaptable and resilient, even more so than adults," Dr. Fran Walfish, Psy.D., a child psychologist in Beverly Hills and author of The Self-Aware Parent, tells Romper in an email. "The number one positive thing about the pandemic that kids adore is the extra time they got to spend with their parents at home, and the group experience of family." In fact, being stuck in close quarters has actually helped families grow closer as they found better ways to communicate.
And again, the ability to incessantly snack cannot be understated.
So from baking to bonding, playing games and being in PJs all day, children have certainly survived (and even thrived) during the quarantine. So if their answers below are any indication, one thing's for certain, momma: the kids are all right.