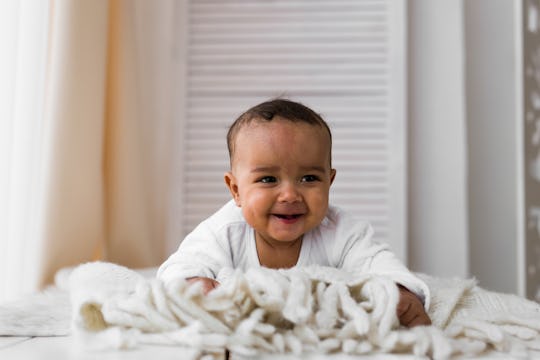 satura_/Fotolia
24 Baby Names With 4 Syllables, Because You've Got A Tempo In Mind
Choosing a baby name is serious business. Whether you know you want a name that starts with a certain letter or you want baby names with four syllables, it can be hard to find something you really love. (It's even harder if you have a partner who has to agree on it, too.) But there's a reason you have your requirements, and for some parents, it can mean everything when it comes to picking a baby name.
If you're really stuck on the four syllables, I get it. My married name is long, so I was trying to find names that weren't too much of a mouthful for our baby. I didn't mind so much about syllables, but the rhythm really mattered here. If you're looking for a baby name with four syllables, you probably feel the same way. You've got some kind of baby name tempo in your head, and you want to follow through. Luckily, four syllables doesn't necessarily mean the name's going to be long, hard to pronounce, or difficult to spell. There are tons out there and this list is just a sampling of some favorites.
Because of the four-syllable rule, you'll find a lot of Italian names and names that end in A, but you'll also find a good mix of classic and trendy, unique and traditional. So no matter what your style is, the four-syllable baby name is totally attainable.