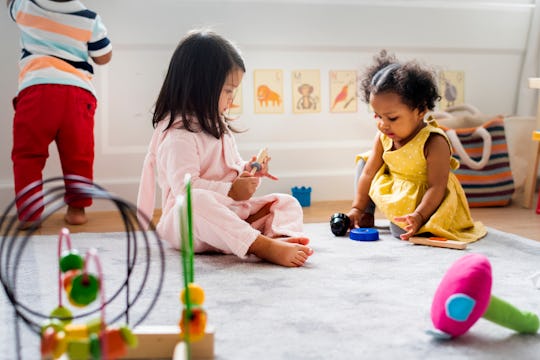 Shutterstock
26 Unique & Beautiful Toys That Help Teach Kids About Race, Diversity, & Inclusion
Every kid is different, but most have one thing in common: They love to play. Think back to the pure, unadulterated joy you felt spending hours on end pouring tea for stuffed animals or exploring the stratosphere in a cardboard box spaceship and you'll remember: kids learn about themselves, the world, and their place in that world through play. That's why joyful, engaging toys and games that teach kids about race, diversity, and inclusion are so essential.
"Kids who play with diverse toys will be more familiar with different skin colors, which will make the people they encounter who have a different skin tone no longer feel like an 'other'," child therapist Jodi Aman, LCSW, tells Romper.
Han Ren, Ph.D., a psychologist whose specialties include working with children of immigrants, agrees. "Just as kids of both genders should have access to dolls, trucks, balls, Legos, [and other] traditionally 'gendered' toys, having access to toys with representation of the world and of people of global majority helps children relate and identify with people and lifestyles they don't see daily," she says.
Of course, plunking a bunch of diverse toys into a bin is not enough, Dr. Ren adds. "If children play with diverse toys with no engagement in dialogue and modeling, this could lead to a microcosm of the racial injustices they view in their daily lives. However, if these toys are introduced thoughtfully and intentionally, children can certainly learn to expand their worldviews." For example, when you and your child play with these toys, you can use what the blog Raising Race Conscious Children calls "explicit, proactive" language around race:
"Some mommies and children have a similar skin color, but other mommies and their children have different skin colors, did you know that?"
"This baby doll has brown skin that people call Black. Your friend Madison is Black, too."
Of course, none of this means that every minute of playtime needs to be an intentional attempt to teach a lesson. You can let the learning happen naturally as kids have fun playing with toys that expose them to different cultures and ideas. The act of imaginary play can be a powerful tool in itself, licensed clinical social worker Dyann Avila explains. "As a clinician that serves a diverse community of families, and as a parent of color, I believe that the power of play itself is the venue for promoting compassion and cultural humility," she says.
All the toys below were chosen because they're exceptionally fun and unique. (You'd want them in your kid's toybox even if they weren't going to teach them something valuable.) And don't stop with your own child's collection. Turn to this list when you need a birthday present for a little friend, or consider donating one of these diverse toys to a local library or day care.
We only include products that have been independently selected by Romper's editorial team. However, we may receive a portion of sales if you purchase a product through a link in this article.