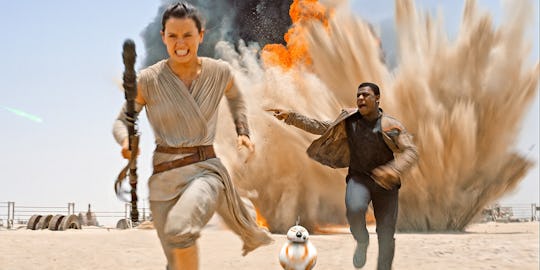 27 Ways 'Star Wars: The Force Awakens' Was The Most Feminist Film Of The Year
I never considered myself a hardcore Star Wars fan before, I'll admit. But after seeing Star Wars: The Force Awakens, I might very well be. The newest film been in theaters for less than a week, and I've already seen it twice. Because of this, I can happily report that Star Wars: The Force Awakens, is the most feminist film of the year.
Die hard fans of the series were doubtful at first — and after the train wrecks that were Episodes I, II, and III, who can really blame them? What fans hoped would be an epic origin story wound up being a looked down upon series with weak characters, and a lot of WTF moments. (Two words: JarJar Binks.) So when the trailer for The Force Awakens dropped, fans were already hesitant. And then, in what has been traditionally a boys' club throughout the years, J.J. Abrams dropped a female protagonist into the world. Not only do we get a new female lead in Rey out of this film, but reports surfaced that The Force Awakens passed the Bechdel Test a week before the film dropped.
Given all of these facts, I was excited to see the movie based on the buzz alone. (But still slightly hesitant, because I'm still not over all the midriffs Natalie Portman had to wear as Queen Amidala.) Beyond the Bechdel test, beyond the new female protagonist, lies a decidedly feminist approach to a series that hasn't stood up to the challenge in installments past. The hints in the trailer of the feminist force awakening carry through to the film. If you're still on the edge of your seat, wondering if you should see the movie? Put your trust in me, and go see it. Also, stop reading this article, because there are definite spoilers ahead.