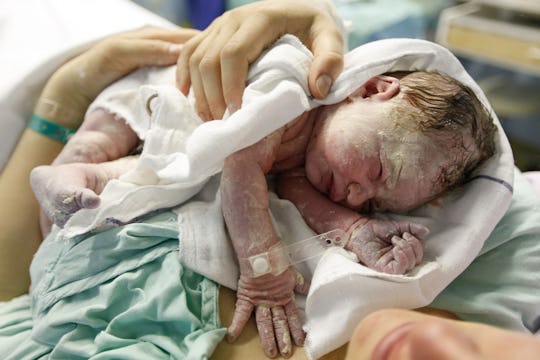 zlikovec/Fotolia
28 Moms Share The Most Disgusting Part Of Their Birth Experience
When I say "birth is disgusting," I don't want you to get the wrong idea. Birth can be empowering and wonderful and downright beautiful... but it's all of those things and pretty gross. There's nothing wrong with that, either. In fact, that's a pretty typical response to your body doing something so intense. I truly believe that women, socialized to put a premium on being "pretty" and "polite," should embrace the yuck. So, in the spirit of owning grossness, I asked moms to share the most disgusting part of their birth experience. Their answers were mostly typical, and all pretty icky.
On top of being normal and a big middle finger to the powers that would have women as anatomically functional as a blow-up doll, grossness (especially when it comes to labor, birth, and postpartum issues) is funny, at least from a distance. Some might call me juvenile, but I say there is nothing juvenile about thinking fart stories are funny. Have you ever even heard a fart? It's a ridiculous noise! Bodies doing gross things at inopportune moments provide much needed levity to remind us that, hey, we're all human.
Fair warning: these stories are not for the faint of heart. When I asked these gals to be gross, they were not shy about holding back. That said, if you have given birth I am positive you will be able to relate to most, if not all, of these tales of squishy, stinky, splashy, grossness.