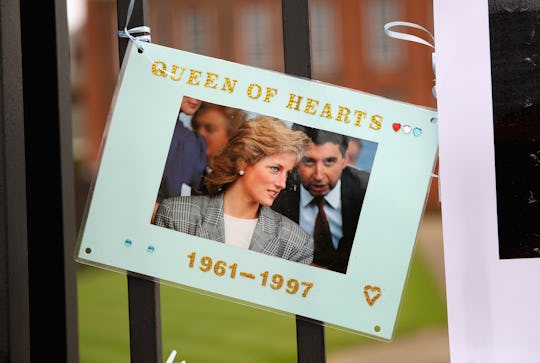 Chris Jackson/Getty Images Entertainment/Getty Images
28 Of Princess Diana's Sweetest Mom Moments With Prince William and Prince Harry
It's hard to believe that it's been 21 years since Princess Diana's tragic death in Paris in 1997, but on Friday, the world paid tribute to the late royal, remembering her as a beloved public figure who championed humanitarian causes and fought to destigmatize AIDS, mental illness, and homelessness. But Princess Diana was also a devoted mother to her sons, Prince William and Prince Harry, and has been credited with ushering in a more modern, hands-on parenting approach within the monarchy — one that William and Catherine seem to have adopted with their own kids. These 28 photos of Princess Diana with Prince Harry and Prince William show that, beyond her (often-grueling) role in the spotlight, she was a seriously loving mom, who strived to give her boys as normal a childhood as she possibly could.
Both William and Harry have spoken publicly in the past about the heartbreaking loss of their mother, and how incredibly difficult it was for them to experience it so publicly at a time when the entire world also seemed to be mourning alongside them. Making it even more difficult? The princes were only 15 and 12 years old at the time of Diana's death, according to Newsweek. But while they may now both be fully-grown, married men — and William a father-of-three — it sounds like their mother's memory continues to be an important part of their lives.
In 2017, the princes opened up about their mother for the ITV documentary Diana, Our Mother: Her Life and Legacy, released in honor of the 20th anniversary of the princess' death, according to The Guardian. In doing so, they sat down to look back at old family photos — even sharing three seriously adorable childhood pics with the public via Kensington Palace — and in it, one detail stood out for Prince Harry in particular: his mother's hugs and cuddles. He said, "She would just engulf you and squeeze you as tight as possible. Even talking about it now, I can feel the hugs that she used to give us."
That's a sweet memory, but it's also pretty notable: Princess Diana often broke from royal tradition by being such a publicly affectionate, hands-on mom with her boys. And in general, Diana — who had formerly worked in a nursery school prior to getting engaged to Prince Charles in 1981 — took a decidedly more down-to-earth approach to parenthood, giving birth to both boys in a hospital instead of at Buckingham Palace, according to People, and sending them to school instead of homeschooling them by royal tutors.
In fact, it was actually Diana who started what has now become a royal tradition of a post-birth photo op on the steps of St. Mary's Hospital's Lindo Wing: she was photographed there after both of her sons' births, and the Duke and Duchess of Cambridge have followed suit with each of their three children.
Despite being considered a royal "rebel" for insisting upon doing things her own way, it also seems pretty clear that she considered it important to prepare her sons as best she could for their future royal duties — particularly as William is third in line for the throne after his father, Prince Charles. Couple that with her desire to be as involved in her children's lives as possible, and it makes sense that the princess opted to involve her sons in her own royal engagements, even as babies. Princess Diana and Prince Charles brought Prince William on his first royal tour to Australia and New Zealand when he was only 9 months old, according to People, which stands in pretty stark contrast to the Queen, who'd embarked on a six-month royal tour when Prince Charles was a young boy, leaving him at home with nannies.
Prince William has once again followed in his mother's footsteps in this regard, as well. In 2014, the Duke and Duchess of Cambridge brought their then-infant son Prince George on a royal tour to Australia, according to The Telegraph, and in 2016, they brought both Prince George and Princess Charlotte along for a royal tour of Canada, according to Hello!.
One important detail though, that both princes seemed more than happy to divulge in the 2017 documentary? That as much as their mother was known for her affectionate nature and her more-serious endeavors like her charity work, she was also just really, really fun. Prince Harry explained,
Our mother was a total kid, through and through. When everybody says to me, 'so she was fun, give us an example,' all I can hear is her laugh in my head. That sort of crazy laugh, where there was just pure happiness shown on her face.
Harry also revealed that his mom was more than happy to break the rules. He said,
One of her mottos to me was, 'you can be as naughty as you want, just don't get caught.' She was one of the naughtiest parents. She would come and watch us play football and smuggle sweets into our socks. [I'd be] literally walking back from the football match [with] five packets of Starburst, and just the whole shirt was just bulging with sweets.
As unbelievably difficult as it must have been for Prince William and Prince Harry to lose their mother at such a young age, it seems clear from the photos the world has seen of them together that they had an incredibly special bond that will live on forever. And while the anniversary of her death has to be a heartbreaking day, it looks as though they have many wonderful memories to look back on and remember.