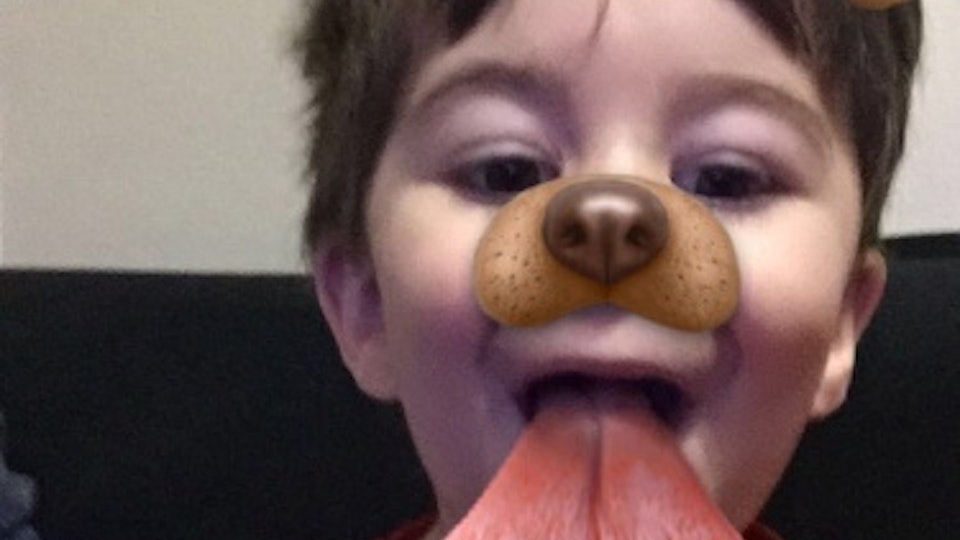 3 Dog Snapchat Filter Costumes For Kids This Halloween
It's great to dress up as a classic ghost or witch for Halloween, but some kids go for costumes with a more current vibe. That being said, you don't want to give up the cute factor just yet. If this is the case for your kid, you should consider some dog Snapchat filter costumes for kids. Your little one will be both on-trend and adorable — it's a win-win.
For this Halloween, you're certain to see all kinds of emojis, Pokemon, and other pixelated creations all over your neighborhood. But the Snapchat filter costume is exceptionally clever, because it's so current and of the moment. When you and your kids look back on the photos of this Halloween in coming years, you can laugh about the costume that was so 2016. That's the beauty of trend costumes.
Another fun thing: the rest of your costume can be as simple or elaborate as you like. But because you're mimicking the filter, it would be fine to just wear normal clothes with the face paint and accessories. If you're stressed by elaborate, expensive getups, then this just may be the stress-free option for your family. Bonus: you can take Snapchat pics of your kid in the costume for maximum effect.
1

Classic Dog Snapchat Filter
Dog Ears and Nose Costume, $20, Amazon | Red Felt, $7, Amazon | Construction Paper, $4, Amazon
The ears, nose, and that all-important tongue help create this look that most everyone will recognize immediately. You can pick up the dog ears and nose costume and craft a tongue out of red felt or construction paper. And if you're really crafty, you can use some makeup and ear print-outs to make the entire look yourself, as shown in this dog makeup tutorial by eHow.
2

Dalmatian Snapchat Filter
Dalmatian Ears and Nose Set, $21, Halloween Express | Costume Makeup, $7, Amazon | Dalmatian Fabric, $9, Amazon
Savvy Snapchatters know that the dalmatian filter is what it's all about. So if your little one needs a next-level Halloween costume, look no further. You can start with the dalmatian ears and nose set, and then add in some extra whiskers and spots with black and white costume makeup. Use some dalmatian fabric to create a spotted tongue if you want to go all out.
3

Long-Eared Dog Snapchat Filter