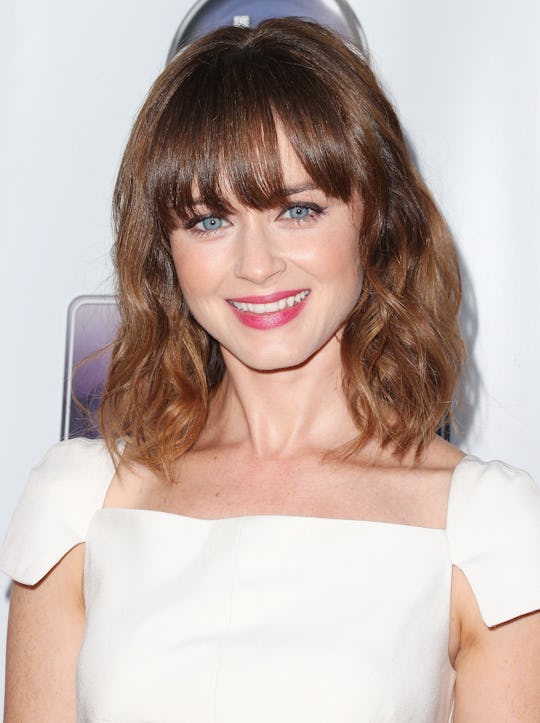 Frederick M. Brown/Getty Images Entertainment/Getty Images
3 Photos That Hint At Alexis Bledel's Pregnancy
When Alexis Bledel's representatives confirmed that Bledel and her husband, Vincent Kartheiser, had had a son in the fall of 2015, fans were shocked. Not only did Bledel keep the news of her pregnancy under wraps while discussing the news of the Gilmore Girls revival, but Bledel had never been spotted with a baby bump. The incredibly private actress was able to get away with being pregnant for nine months without a soul knowing — except maybe a few super sleuths. There are only a few photos that hint at Alexis Bledel's pregnancy, leading fans to wonder how she got away with it.
Thanks to Bledel's co-star, Scott Patterson, who plays Luke on Gilmore Girls, Bledel was forced to spill the beans. In an interview from mid-May, Patterson told the magazine that Bledel was a proud new mother to a son, a year and a half younger than Patterson's soon-to-be two-year-old son. Wait, what? Bledel's team then confirmed that the Bledel-Kartheiser baby was born in fall 2015.
Therefore, Bledel had to be pregnant for a good part of the spring and summer of 2015. However, due to Bledel's very private nature, the paparazzi were not poised outside of her home or Trader Joe's to snap pics of Bledel getting groceries or walking her dog. Therefore, the only photos that exist of Bledel during her pregnancy are photos of Bledel making a public appearance where we can assume she is pregnant because of the timing.
1. Her Appearance At The Gilmore Girls 15 Year Reunion
The reunion, which happened in June 2015 at the ATX Festival, would definitely coincide during Bledel's pregnancy. Although it is unclear if she was in her first or second trimester. You can see Bledel walk on stage with her back slightly arched, like she is possibly carrying some extra weight due to the baby. However, due to the camera's angle and Bledel's conveniently wide paneled blazer, it is hard to gauge if she is hiding a bump under her jacket.
In other angles during her introduction, it definitely looks like a bump is there but the blazer's panels also protrude at a weird angle, possibly creating an illusion of a bump. Could Bledel have picked out a more confusing, optical illusion of an outfit?
When Bledel sits down and discusses the show on the panel, it is even more confusing. While the camera does a great job at panning in and out on Bledel, Bledel's drape-y black top and black pants do an excellent job at covering anything up.
2. Bledel's Photo With Lauren Graham and Mae Whitman
At the same festival, Bledel was photographed with her TV mom and, er, Mae Whitman's TV mom, Lauren Graham. While there appears to be a slight bump in the bottom left corner of the screen, Bledel's outfit does a great job at covering her stomach and the camera does a great job at capturing the ladies from the chest up. To me, however, it looks like there is something there, especially after watching the footage from the reunion.
3. Bledel's Appearance At The SAG Awards
Bledel made her first appearance of 2016 at the Screen Actor's Guild awards in late January — post pregnancy (although the rest of the world didn't know it yet). While fans of Bledel's were just happy to see her on the red carpet, we now can look back at these photos knowing Bledel is a brand new mom. And while Bledel looks pretty great in posed shots from the awards show, one Twitter user, @GilmoreJunkie, is the only person on Twitter who calls out Bledel's pregnancy.
While I believe Bledel looks incredibly skinny, from the angle the candid picture is taken, Bledel's lower stomach does look a bit swollen — even though I look like that after eating a cheeseburger. "Alexis Bledel is for sure either pregnant, or has just been pregnant!!" the Twitter user writes, predicting what all of us could not.
In November, CelebBuzz was the only website to report that Bledel was expecting. But Bledel's representatives never confirmed the pregnancy, and when the Gilmore Girls reunion was announced, the news fell wayside for the bigger news at hand. Luckily there are a few photos of Bledel pregnant existing on the internet for all of us to see.