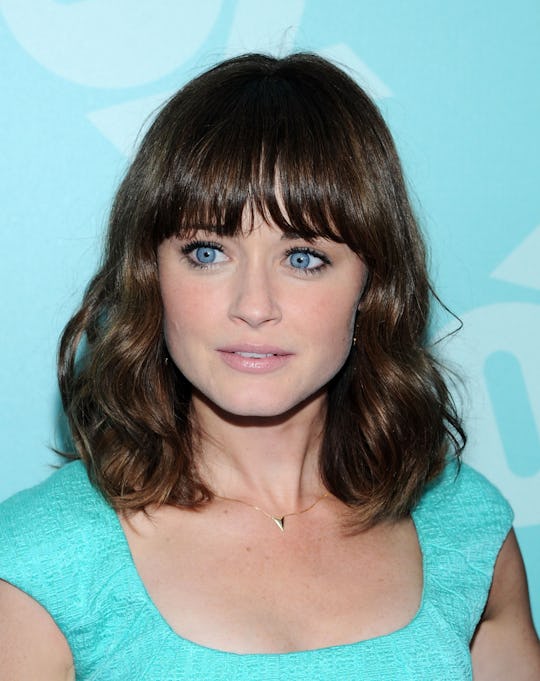 Ilya S. Savenok/Getty Images Entertainment/Getty Images
How Did Alexis Bledel Keep Her Son A Secret? She Almost Got Away With It
Gilmore Girls fans were stunned when Scott Patterson accidentally outed one of his costars as a secret mom during a Glamour interview in May. Now, everybody's wondering how Alexis Bledel kept her son a secret for months. "[M]y son is about a year and a half older than her young son," Patterson told Glamour. Patterson announced the birth of his son via Twitter on July 3, 2014, so that would mean Baby Bledel was born around January 2016. Bledel's camp later confirmed to multiple outlets that she and Vincent Kartheiser, her husband and Mad Men costar, had welcomed their son last fall (I guess Patterson's bad at math?). We still don't know the exact birth date, or the name, of this mysterious infant.
But someone might have had insider information: On November 9, 2015, Celebuzz claimed that an anonymous source told them Bledel was pregnant. "They are expecting but they don't want a lot of people to know" said the source. "Only close friends and family know about the baby." Was it just made-up gossip that happened to be true? Even a broken clock is right twice a day, after all. Only a handful of outlets picked up the story at the time, so apparently most people didn't take the site seriously.
Assuming that both Bledel's camp and the Celebuzz source are telling the truth, that would mean that the baby was born sometime between November 10 and December 20 (the last day of fall), so with that in mind, I creeped every corner of the internet for details on Bledel's life throughout 2015 to see just how she was able to hide a pregnancy from everybody, since she should have been showing by the summer. It's called investigative journalism.
On June 6, 2015, the Gilmore Girls cast reunited for a panel at the ATX Television festival. Bledel wore a black top paired with a white blazer, left unbuttoned. Skip to 4:45 in the video to see her walk onstage. Could there be a secret bump concealed behind that blazer? Maybe! She even looks a little awkward as she sits down, but I could be reading too much into that.
Two days later, Mae Whitman tweeted a photo of herself, Bledel, and Lauren Graham that appears to have been taken that same day. Note Bledel's crossed arms. The pose was supposed to be a joke about Whitman and Bledel fighting over Graham, who's played TV mom to both actresses, but did they just spin it that way as an excuse for Bledel to cover her stomach? It's possible. Of course, it's also possible that she wasn't even showing at this point, since she would have been somewhere between 12 and 18 weeks pregnant.
Did you know that Bledel played Katherine Heigl's wife in a movie called Jenny's Wedding? Neither did I! Apparently, it didn't do very well. It premiered at Outfest on July 11, according to Variety, and Heigl hit the red carpet to promote it. But guess who didn't. Maybe-secretly-pregnant Bledel! In fact, she wasn't seen in public again until January 30, 2016, when she attended the Screen Actors Guild Awards with Kartheiser. At that point, her son would have been between six and twelve weeks old, but fans didn't mom-shame her for leaving the house like they did to Chrissy Teigen, because they had no idea she was a mom at that point. She then went back into hiding until Patterson spilled the tea and ruined everything.
So there you have it. If you're a celebrity, and you're looking to have a secret baby (nice try, Eva Mendes), all you have to do is go into hiding for the better part of a year, and make sure that if you have a shady friend who's willing to sell you out for a paycheck, they choose a website nobody trusts. Also, be sure to explicitly tell your costars that your secret baby is a secret, or they'll casually talk about him when speaking with a major publication. Simple as that!