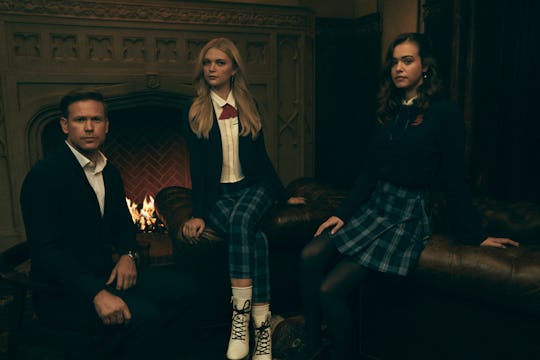 Miller Mobley/The CW
Damon & Elena's Daughter On 'Legacies' Is Not What You Think She Is
Fans of The Vampire Diaries have been dying to get an update on Damon and Elena ever since the CW's spinoff series Legacies premiered. So when Josie Saltzman mentioned the name Stefanie Salvatore during Episode 10, fans went couldn't hold back their excitement. There aren't many details about the couple's kids other than the name, so fans came up with these three theories about Elena and Damon's daughter on Legacies.
The revelation of Stefanie Salvatore came in "There's A World Where Your Dreams Came True," the episode in which Lizzie Saltzman is confronted with a wish-granting Jinni and wishes Hope out of her life. At one point Lizzie wishes that The Salvatore School was never built, which leads her into a reality where she is attending Mystic Falls High School as a highly unpopular student. In this alternate reality, Josie (who is the popular one) asks Lizzie to steal Alaric's watch so she can siphon the power from it. She tells her that the watch was given to him by Stefanie Salvatore's dad, presumably Damon Salvatore, who was Alaric's best friend on TVD.
When TVD ended, Damon and Elena were in love, and they became human (they were vampires) so that they could live normal lives, settle down, and have kids. With Damon by her side, Elena went to medical school, became a doctor, and started a family clinic in Mystic Falls. It would totally make sense that their kids, including Stephanie Salvatore, live in town with them. Here are three theories about their daughter than fans have been mulling over.