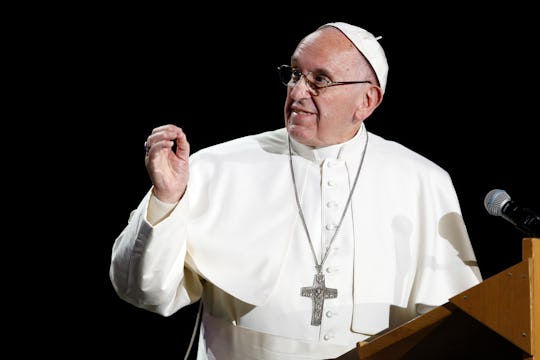 Michael Campanella/Getty Images News/Getty Images
3-Year-Old Has The Best Reaction To Meeting The Pope
Meeting the pope for most people means projecting a most pious persona, but one little girl used the opportunity to break one of the Ten Commandments in the most adorable way possible. After waiting three hours to meet the Holy Father in Rome Wednesday, 3-year-old Estella Westrick stole the pope's hat in a move that, predictably, went viral — and for all the right reasons. Pope Francis probably meets more people than he could possibly even count, but it certainly seems as though he won't even need to refer back to the internet-famous video clip of the encounter to recall the deep belly laugh the moment elicited.
Estella certainly made an entrance during her first full day vacationing in Rome, where she had traveled, along with her parents, from her home in Atlanta, according to CNN. She certainly had no inhibitions about meeting the pope, and the result was delightful. A short video recording of the cutest moment of the day shows a Vatican aide presenting the girl to Pope Francis in St. Peter's Square. As he gives her a kiss on the check, she reaches up an snatches his zucchetto (the small skullcap he wears atop his head). Once he figures out what the heck just happened, the pope laughs and laughs before taking it back and placing the cap back where it belongs.
Talk about comic relief — and the internet seriously could not get enough of it. The video of the lifting of the skullcap, posted by Estella's godfather, Mountain Butorac, garnered nearly 30,000 likes (and counting!) on Twitter in little more than half a day. "It's exciting! I'm sure every godparent would love for their godchild to meet the Holy Father," Butorac, who lives in Rome and organizes Catholic pilgrimages and tours, told BuzzFeed News. "Mine just did and it was not only a special holy moment, but hilarious too!"
The pope's skullcap, as mentioned, is often referred to as a zucchetto, and there's good reason he couldn't let Estelle make off with it as the ultimate Vatican souvenir. According to Time, only the pope is permitted to wear the white version of this important piece of the clerical uniform. Still, she and her family will certainly have the best memory of any trip they ever go on, and really, that's almost better.
Everyone, bookmark this video, because it's definitely the best instance of toddler deviance since one bespectacled little munchkin crashed a certain BBC interview... and you're going to want to watch it about 50 more times.