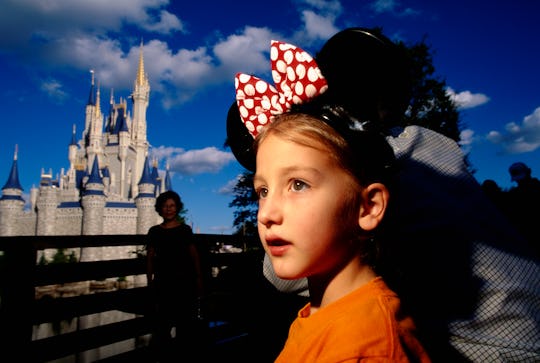 mark peterson/Corbis Historical/Getty Images
These 30 Cute Instagram Captions For Your Kid's First Disney Trip Are Magical
You got your Magic Bands in the mail months ago, put your mouse ears on as the sun came up, and now you'll step foot into the most magical place on Earth with your kids for an obligatory picture. Which means you'll also need some cute Instagram captions for your kids' first Disney trip when it's time to post that signature shot of your kid's reaction to seeing Cinderella's Castle for the first time.
Whether it's Disneyland or Disney World, visiting a Disney park for the very first time is an experience that kids and parents will remember for a lifetime. I visited Disney World for the first time as a 6-year-old and while I don't remember a ton of specifics about the trip, I do remember the exhilarating feeling of entering the gates to the Magic Kingdom on our first day at the park. My mom can tell you every little detail about the experience — including the exact dollar amount spent on air faire, tickets, and park swag — but she also says that it's some of the best money she and my dad ever spent.
When you shell out this much cash for a family vacay, you'll definitely be documenting it, so use one of these cute Instagram captions for your kids' first Disney trip to let all of your friends know just how much Mickey-themed fun you're having.