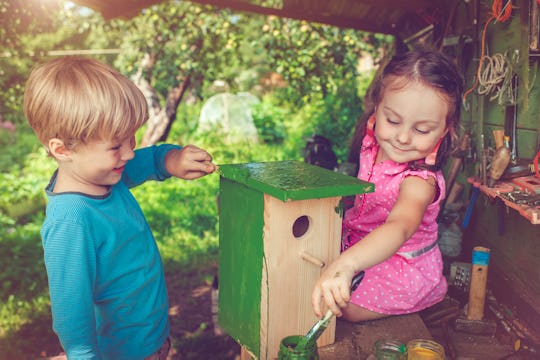 ArtMarie/E+/Getty Images
Here Are 30 Summer Camp Craft Ideas Your Kids Can Still Do In Quarantine
Some of kids' best memories are formed during their days at summer camp, so the fact that a lot of people's summer camp plans are up in the air or altogether cancelled at the moment is kind of a bummer. But you can help to fill the void with a steady scream of popsicles and these great summer camp craft ideas. Sure, it's not quite the same, but a makeshift quarantine camp is better than nothing, and you'll have lots of handmade memories by the time September rolls around.
What makes summer camp crafts so special isn't just the fact that they're made somewhere fun, it's that they tend to turn everyday items into something totally different (so save all of those toilet paper rolls you probably have lying around now). Anna Lisa Lieber, Program Director for Art Buzz Kids Camps in Raleigh, North Carolina, tells Romper that because kids are "tactile learners," "projects that feature yarn, recycled materials of varying textures, or beads always get them excited." If you don't have access to those materials, Lieber says, "Don't be afraid to try projects using at-home supplies! Coffee filters can become flowers, paper towels can be tie-dyed, [and] socks can be stuffed and turned into snowmen."
The best summer camp crafts are the ones that bring summer to mind in some way or another. Maybe they have a nature theme, or honor the friendships made at camp, or they're so messy you have to make them outside on a gorgeous hot summer day. While these activities obviously can't totally replace the camp experience for your child, you can still help them have a fun summer with some classic camp crafts. If memories of your own days of summer camp are a little fuzzy at this point, here are some favorites.