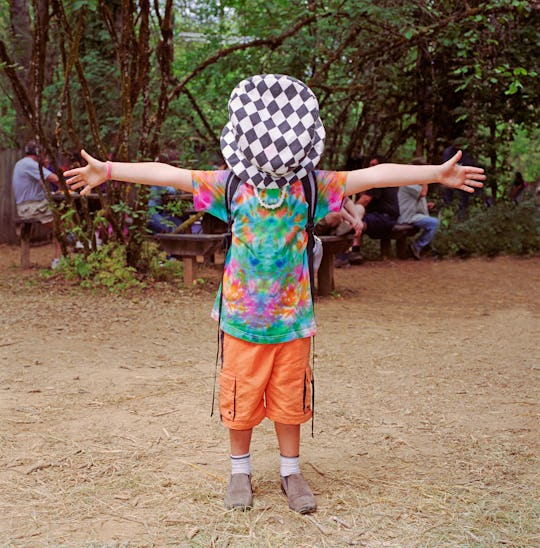 Spike Mafford/Stockbyte/Getty Images
Here's The Safest, Easiest Way To Tie Dye With Kids
Let's say that you've just done the laundry and noticed just how many white shirts your family owns. You can either fold that big ol' pile and put them away — or try out a new craft and tie-dye them. That's right, tie-dyeing is an awesome way to give new life to formerly white shirts that have now gone slightly grey in color. Plus, tie-dyeing with your children is a really fun way to spend some time together. You'll just need to know how to tie dye safely with kids first, because, well, chemicals.
Tie dye is entertaining because it doesn't require a lot of tools or planning. All you really need is an article of clothing (usually a shirt), some rubber bands to crimp and crunch your clothing, and dye... and of course, safety supplies (like kid-sized rubber gloves). "Tie dying is a lot of fun, but it's definitely important to take safety precautions," fashion expert Laurice Wardini tells Romper. "You also want to learn how to do it correctly to avoid a depressing result."
Just keep in mind that tie-dying isn't the cleanest of crafts. In fact, you should probably prepare for a mother of a mess, but that'll make your kids enjoy it even more. Here's how to get started tie-dying for a groovy good time.