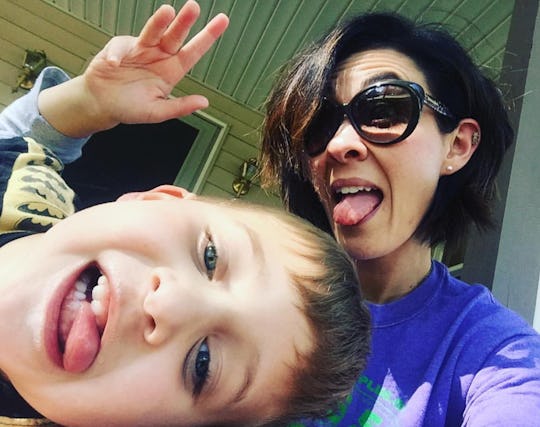 Courtesy of Candace Ganger
Everything I Can't Wait To Tell My Kid About The Day They Were Born
My 10-year-old daughter is old enough to have already heard literally every possible story about her birth. From the first snowfall of the season, to how she didn't cry the moment the nurse laid her on my chest, she's well-informed about the day she came into the world. My son, on the other hand, is too young to have re-lived all the glory of his special day. Of all the things I can't wait to tell my kid about the day he was born, the most important is how unbelievably happy I was to finally meet him.
My sweet boy was birthed over three long days and after an unplanned induction to keep me from losing more amniotic fluid. The two of us already had quite the thrill ride, thanks to what the doctors labeled as a "threatened abortion" and ultimately high-risk pregnancy. After suffering two miscarriages before I became pregnant with my son, I hoped with all that I had that he'd make it to term so I could thank him for being the rainbow baby I had dreamt of meeting.
While I know most mothers say the following about their children, and we're all biased about the babies we bring into the world, I can unequivocally say that my son was (and is) perfect. In fact, he's so damn perfect he made all the heartache and the frustration leading up to his birth, more than worth it. With that, here are some other things I can't wait to tell him about the magical day he came into my life.