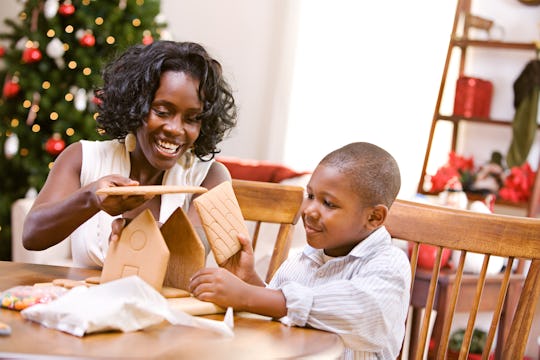 31 Christmas Hacks To Help You Detangle The Lights, Bake Gingerbread, & Much More
It's the middle of December, and Christmas is a coming. And though the holidays bring about a certain level of cheer, they also cause some serious stress. I'm talking about screaming while you detangle Christmas lights, freaking out over your less-than-perfectly wrapped gift, and crying over some horrifying cookie decorating fails. It's a difficult time of year but what that could be made easier by a few Christmas life hacks.
Anything that will save you time and money is huge, but it's especially helpful when it comes to the holidays. Between decorating the house, wrapping gifts, and being in the kitchen, this season is full of opportunities for major mishaps. But who needs extra stress? You're already panicking because the Cabbage Patch Doll double stroller is sold out and now your daughter's Christmas is ruined (or maybe that's just me) To help you out and give you a few less things to stress about, I've compiled 31 of the best Christmas hacks guaranteed to make your holiday season easy, merry, and bright. And the best part? None of them are ridiculous things like using cardboard boxes to make a cheap tree. All of the decor hacks are still gorgeous, the food hacks are still delicious, and the gift wrapping hacks are still perfect for under the tree. Don't let yourself panic a moment longer. And have some eggnog already, girl. It's just Christmas!