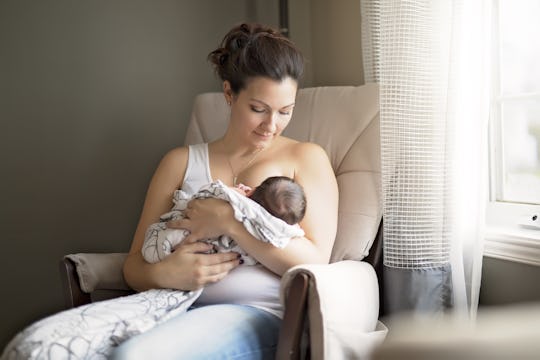 jozik13/Fotolia
32 Real Breastfeeding Questions On Pregnancy, Antibiotics, & More, Answered By An Expert
Breastfeeding can be a hard, isolating, and emotional journey, which is why it's so important to have support. That's why Romper launched a Facebook breastfeeding community, Breastfeeding TBH — to help make feeding another human being with your own body a little easier. Every day readers ask questions because, let's face it, breastfeeding is complicated, and each week in Rack Facts, Romper speaks with a lactation consultant to answer as many of those questions as possible. After all, everyone can use a little expert help, especially when it comes to feeding your kid.
Breastfeeding is totally natural — until you're hooked up to a pumping machine feeling like a dairy cow and wondering what in the world is happening to your life. OK, so it's still natural even then, but it doesn't always feel that way.
And calling it natural? Sometimes that lulls moms into a sense of insecurity. If it's so natural, why does it seem so damn hard? If it's so natural, why are you struggling so much? If it's so natural, why do you want to quit and give up because it's literally turning your life upside down?
Just because something is natural doesn't mean it's easy. Just like parenthood, breastfeeding takes some learning and a lot of patience. I took several reader questions to Tipper Gallagher, International Board Certified Lactation Consultant, to get the answers you need to help regain your confidence and security in breastfeeding. Gallagher runs The Boob Geek, a website with Twitter and Facebook pages, to help share evidence-based support for breastfeeding families. If you're in the Twin Cities area, you can contact her for private consultations and support.