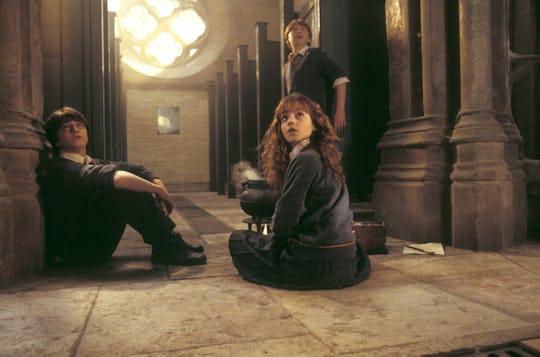 Warner Bros.
35 Thoughts You Have When You Re-Read 'Harry Potter & The Chamber Of Secrets'
So if you've just started re-reading the Harry Potter series in anticipation of all the Harry Potter goodness being released this year, I'll wait, but we seriously have to chat about the thoughts you have when you re-read Harry Potter and the Chamber of Secrets.
The second book was my favorite for a few years, and I think it had everything to do with the fact that the book marked the beginning of the series's progression into darkness. I mean, it doesn't get much chillier than a monster wanting to kill muggle-borns so that a new, pure-bred wizard race could take over. And when the Hogwarts professors seem to be totally lost about the events? Even creepier. I love a good horror story, so Chamber of Secrets quickly became my favorite. But re-reading it proves just how much darker the series gets and how this second book is basically a coloring book compared to the last ones. (I mean, no one actually dies in this one except the basilisk.)
And re-reading it also gave me some important and not-so-important thoughts. Old characters, plot twists, and questions about horcruxes are all here. But the one thought I didn't include? How did I ever think this was the best book? I had no idea of the greatness to come.