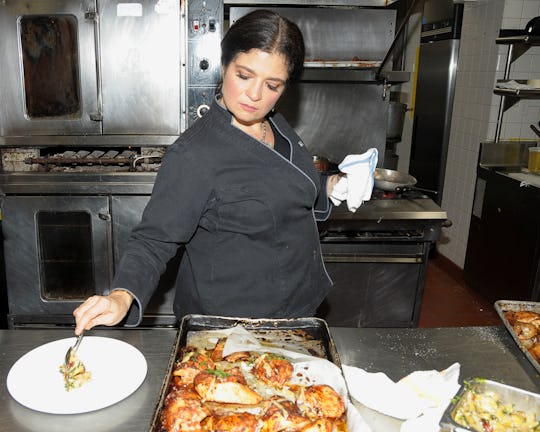 Chance Yeh/Getty Images Entertainment/Getty Images
4 Easy Back-To-School Meal Ideas, According To Celebrity Chef Alex Guarnaschelli
If there's one thing celebrity chef Alex Guarnaschelli wants you to know, it's that cooking doesn't have to be complicated. While you can cook all the four-course meals your heart desires, the celebrated Iron Chef and mom says it's not necessary. Chef Guarnaschelli believes in the power of simplicity, which is why she knows any parent can make easy back-to-school meals that'll have the whole family eating like an Iron Chef.
"I usually have one or two days a week with a little more free time to cook meals," Guarnaschelli tells Romper. "What I like to do is a little more cooking on those days so I have food in the fridge for the nights when I have less time." The meals Guarnaschelli counts on are relatively simple and are often nothing more than a soup, roasted vegetables, a crock pot meal, or lasagna — anything that gets better the longer it sits, which is great for working parents. The classically-trained chef is busy, to be sure, juggling the responsibilities of parenting her 11-year-old daughter, Ava, running Butter Restaurant, where she first began as executive chef, and making numerous appearances as both competitor and judge on various Food Network shows, including Beat Bobby Flay, Iron Chef Gauntlet, Iron Chef America, Cooks vs. Cons, and Guy's Superstar Grocery Games.
While Guarnaschelli is known for her "tough as nails" persona, it's the simple things in life, and in food, that she finds to be the most perfect and the most pleasurable. "[My daughter and I] enjoy making simple dishes together," she says, highlighting pork chops, pasta, and chicken with broccoli and garlic. "[Ava] does a lot of the cooking." While Guarnaschelli admits her go-to meals aren't particularly glamorous, she also says that's the whole point. "I love when [Ava] roasts some simple vegetables and then devours them with a grin on her face," she says. "It's honestly a privilege to share the craft of cooking with her."
Keeping recipes simple has helped Guarnaschelli share her passion for food with her daughter, which is why Guarnaschelli has teamed up with Lysol Daily Cleanser to prevent the spread of germs with their 3-ingredient formula. "I think Lysol's approach to this product is a lot like how I like to approach cooking," she says. "The simplicity of ingredients combined in the right way make for the perfect dish. I love that this product leaves no harsh chemical residue while sanitizing work surfaces in the kitchen."
Whether it's kicking ass in the kitchen at work or at home, Guarnaschelli revels in the simple things that make life more manageable and more pleasant. And though this hard-working mom certainly has a lot on her plate — including a new season of her video series for Food Network, Fix Me a Plate — her tenacity, perseverance, and willingness to enjoy the little things serves as an inspiration for every busy mom looking to make meal time easier as her children head back to school. So with that in mind, here are four unique three-ingredient recipes Chef Guarnaschelli created in partnership with Lysol Daily Cleanser: