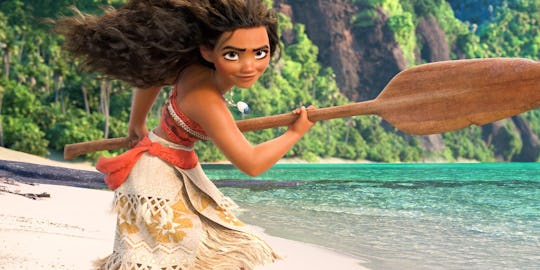 Disney
4 Easy 'Moana' Halloween Costumes For Kids To Prepare Them For The Premiere
EDITOR'S NOTE: In light of conversations around Halloween costumes and cultural appropriation, we encourage readers to check out the arguments against dressing your child as Moana characters for Halloween.
If you have kids, there's nothing more exciting than the anticipation surrounding the release of a new Disney film. As a parent, your nights out are probably few and far between, so a chance to hit the theaters for a film that is both appropriate for your kids and funny enough to make you laugh out loud is a real treat. In honor of the latest Disney animated film hitting the theaters this fall, you should check out some easy Moana Halloween costumes for kids.
In the movie, Moana is a teenage Polynesian princess who is determined to explore the world beyond the tiny Pacific Island she calls home. But Moana isn't your ordinary princess. She's not sitting around waiting for a kiss from some handsome Prince Charming. She sets off with her pet chicken on an ocean adventure to save her people, battling monsters and dangerous odds all along the way.
Depending on where you live, your little ones will be trick-or-treating in some pretty chilly temperatures. But if you're going for a Moana costume this year, sundresses and grass skirts are totally acceptable. Get ready for the film, which debuts this November, by making Moana the inspiration for your little one's Halloween costume.