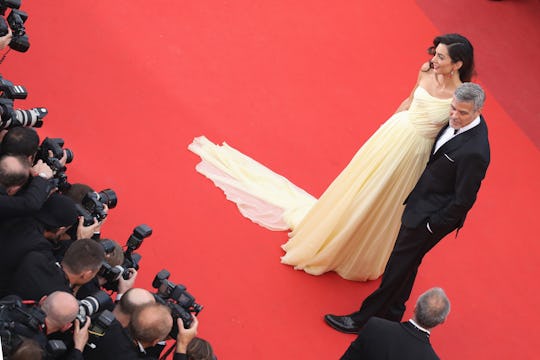 Andreas Rentz/Getty Images Entertainment/Getty Images
4 George Clooney Quotes About Amal
Any day now, the Clooney family will grow by two. Amal and George Clooney are weeks, if not days away, from welcoming their fraternal twins into the world. They would be the first children for the power couple, who tied the knot in late 2014. And these four George Clooney quotes about Amal show that the veteran actor and activist can be both honest and funny about his impending parenthood.
In February, the Clooneys confirmed to The Talk host Julie Chen that Amal, a distinguished international human rights lawyer, is expecting twins. A few weeks later, the mother of the Oscar-winning actor, Nina Clooney, revealed in an exclusive phone interview with RadarOnline.com that the pair would be having a boy and a girl.
It's well known that George Clooney has repeatedly dismissed fatherhood and marriage in the past. The 56-year-old actor, who was once married to fellow actor Talia Balsam, had said a number of times that he wouldn't have children or ever get married again, according to Entertainment Tonight. But life has a funny way of changing your mind — a truth Clooney has acknowledged.
It seems Clooney is excited about his soon-to-be role as a father. And I suspect from these quotes about his wife, Clooney will have one heck of a time.
"I Could Never Come Home."
I know that if my fiancé didn't show up to the birth of our son, I would have been livid — a feeling shared by many pregnant people who have a birthing partner. And it seems Clooney has gotten that message too. In a video, the 56-year-old Oscar winner explained why he couldn't make it in person to present the Aurora Prize for Awakening Humanity in Armenia on Monday. According to Page Six, Clooney said,
I'm sorry that I can't be with you all tonight in Yerevan, but I can say in all sincerity that I am with you in spirit … I really would have been there, but if I came there and my wife had twins while I was there, I could never come home.
"There Is Nothing I Can Do, But Make Tea And Stuff."
When asked how Amal was feeling during her pregnancy, Clooney told Extra,
She is doing really great. She is amazing. I don't have anything to do. There is nothing I can do to help, but make tea and stuff.
I appreciate the honesty here. Pregnancy is hard work done by the one carrying the child. But making tea is important, though. It shows that the pregnant person has the support of their partner.
"It's Going To Be An Adventure."
For many people, impending parenthood is an exciting time. According to POPSUGAR, after the pregnancy was announced back in February, Clooney told a film journalist,
We are really happy and really excited. It's going to be an adventure. We've sort of embraced it all ... with arms wide open.
Being a parent is a wild ride and I can safely say, Clooney may have an idea what he's in for.
"That's The One Thing I'm Not Allowed To Do."
Naming a child is serious. What a parent chooses for their kid will shape part of their identity — at least for 18 years. So when it came to giving their little one names, Amal made sure Clooney didn't get carried away. The award-winning actor told Entertainment Tonight,
My wife says I can't name them Casa and Amigos. That's the one thing I'm not allowed to do. It was just a thought. I mean, you know, it's a family business.
What's the family business, you ask? A tequila company named — you guessed it — Casamigos.
These quotes from Clooney are funny doses of reality. It would interesting to hear what he has to say after his little ones are born.