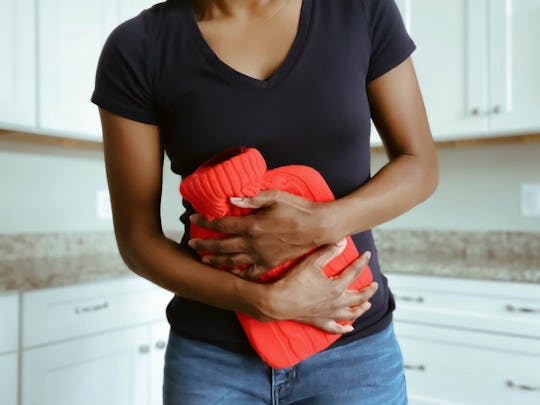 Grace Cary/Moment/Getty Images
These 4 Menstrual Cycle Symptoms Can Be Way More Obvious After Pregnancy
After having a baby, basically every aspect of life changes. Your daily routine, sleep, and body are different, and you may even notice that certain menstrual cycle symptoms change after pregnancy, sometimes becoming a lot more obvious than they were before. These changes aren't necessarily more painful or bothersome, but just might stick around for the long haul.
Part of adjusting to life after a baby is accepting that just about everything, especially your body, will never be exactly as it was before. "One thing I always like to share with women postpartum is that the goal is not to 'get your old body back' but instead establish and adapt to a new normal," certified midwife Betsy Arreguin, DNP, CNM, tells Romper. This is true in a lot of aspects, but especially with your menstrual cycle. It's not only your anatomy that contributes to these changes, though. Kathryn Sullivan, FNP, a nurse practitioner with Marshall Medical Center's OB-GYN department, notes that some changes in menstrual cycle symptoms "may be physical and some may be a result of the change in environment, now that it includes an infant."
Your body and mind went through a major transformation when you gave birth, and you will likely be reminded of that every month in one way or another. In time, you'll adjust to your new normal. But for now, you might want to prepare yourself to deal with the following symptoms.