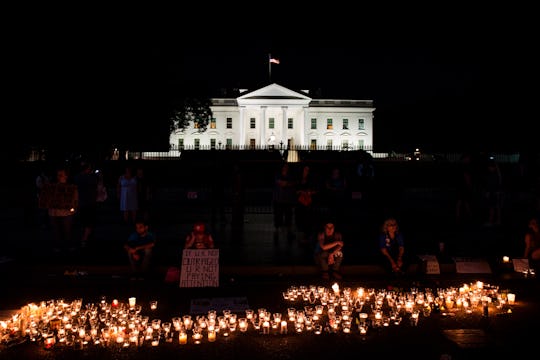 ZACH GIBSON/AFP/Getty Images
How To Use Your Wallet To Help After The Charlottesville Violence
The clashes between white supremacist marchers and counter-protesters demonstrating against racism and bigotry last week in Charlottesville, Virginia, dredged up some version of the refrain "This is not America" from all across the country. But although images of angry white men with torches shouting terrifying epithets like "Blood and soil" may not hit the headlines every day, the fact is that racism is entrenched in the United States' past and present. Yes, the events in Charlottesville — which included the death of a counter-protester at the hands of a white supremacist terrorist and the beating of a black man — were an abomination. But Americans need to actively fight against the relentless current that enabled them every day. To start, here are some organizations fighting racism to donate to after Charlottesville.
As TIME Money reported, bad actors tend to take advantage of people's grief after witnessing horrifying situations, such as the murder of 32-year-old Heather Heyer, who died after a white supremacist plowed his car into a group of those rallying against hate Saturday. So, it's important to be discerning when contributing financially to make sure recipients are legitimate and that your money is going to a worthy cause.
To that end, Money's Alicia Adamczyk suggested against donating via text or through social media; instead, do so through the charity's official site. Also, contributing to fundraisers for victims is always commendable, but it's also crucial to remember that the events in Charlottesville were rooted in a pervasive racism that's as old as this country is. Lending support to organizations that consistently tackle that could make a real and lasting difference. And here are some worthy organizations doing just that.
Black Lives Matter Charlottesville
Black Lives Matter is perhaps the most recognizable (and, somehow, polarizing) organizations fighting for equality. The group is best known for its response to controversial police killings of black men like Mike Brown and Eric Garner. Donate to its Charlottesville chapter by clicking this link.
ACLU of Virginia
When you want to throw the power of the purse behind the rights of all Americans, the American Civil Liberties Union (ACLU) is generally a good place to start. You can donate online or go old-school by sending a check in the mail.
Albermarle-Charlottesville NAACP
It's right there in the mission statement. The NAACP is out to "ensure the political, educational, social, and economic equality of rights of all persons and to eliminate racial hatred and racial discrimination." This is exactly what the so-called "alt-right" marchers in Charlottesville are so afraid of — even if they claimed they just want to preserve their history by defending Confederate monuments from being removed from public spaces. Donate to the Albermarle-Charlottesville NAACP here.
The Southern Poverty Law Center
The SPLC does all kinds of good stuff, such as tracking hate groups, sponsoring efforts to combat prejudice in schools, and "destroying violent white supremacist groups; shattering barriers to equality for women, vulnerable children, the LGBT community and the disabled; protecting migrant workers from abuse; ensuring the humane treatment of prisoners; reforming juvenile justice practices; and more," according to its website.
Right now, the SPLC's homepage boasts info about campaigning to take down monuments to the Confederacy and a prompt for individuals to call out President Donald Trump for his abhorrent reaction to the recent events in Charlottesville. Get behind the SPLC's work here.
While pumping money into these deeply-rooted problems won't solve them entirely, it's an effective way to start and one way to help those fighting the good fight.