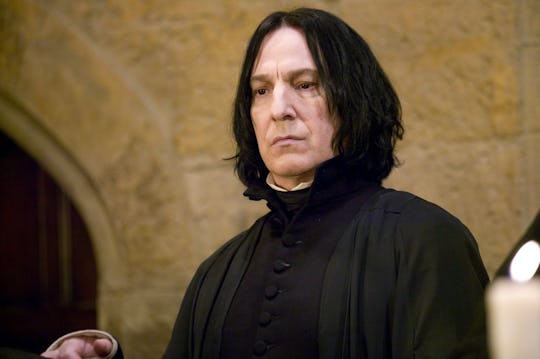 4 Reasons Why Dating A Slytherin Is Actually Amazing, Because We Love Rarely But Intensely
For those of us who grew up in the world of J.K. Rowling's mind and were able to meet Harry Potter and attend Hogwarts (because this is what reading can do), the different houses came to define how we saw the world and how we defined relationships. If you grew up loving Harry Potter, you obsessively looked for signs you're a Slytherin, although you probably hoped like crazy to belong to any other house. Even as we've grown up, our connection to the wizarding world hasn't diminished, and its impact on our perception of ourselves and our relationships remains as serious as ever. This, naturally, means considerably less in terms of choosing life partners or career paths (although there are undoubtedly a great many Potterheads who make important life choices based on the Hogwarts house that they and/or a potential mate belongs to, and I'm not shaming that), and more to do with just having fun. Like me and my friends, drunkenly pretending a red Solo cup filled with beer is the Sorting Hat. For some reason, this little game has always ended with someone yelling "off with their head!" which has never made sense to me, but who am I to question to logic of Harry Potter-themed drinking game?
However, before each rounds of our Harry Potter game morphs into an awful rendition of Alice in Wonderland, the Hogwarts houses are decided and all of my friends are in agreement: I am, without a doubt as I've been told by everyone and their mother and their mother's friends, a Slytherin. It's probably something about the sharp smile and affinity for dark magic that gives it away. Hey, a few choices curses come in handy when my kid won't clean her room. I mean, I'd never use them, but letting her know I have them has always been effective enough.
In the midst of laughter, jokes, and labels it becomes clear that some of us (OK, me) never quite let go of our broomsticks and spell books; we never really let our eyes wander from the Whomping Willow or Hagrid's voice to leave our minds. I will always be a Slytherin and if I'm completely honest, if you're one of those people for whom someone's Hogwarts house is a vital part of their datability status, there are some excellent reasons why we Slytherins are the ultimate people to date.