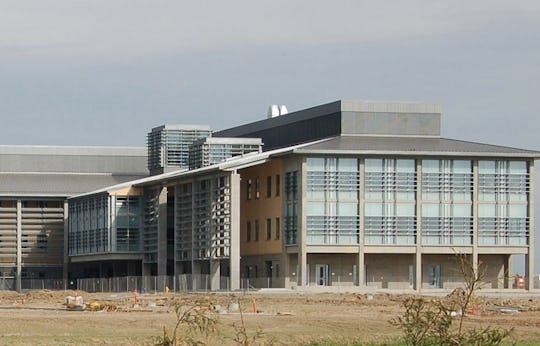 University of California, Merced/Wikipedia Commons
4 Stabbed At University of California, & The Suspect Has Been Shot And Killed
Four students on a California university campus have been stabbed, the school announced Wednesday via Twitter. Two of the more seriously wounded were transported to a hospital in a helicopter, but all victims are conscious.  The school also reported that the suspect has been shot and killed at the site of the stabbing at the University of California, Merced.  
The school initially said five students were injured, but the number has been updated to four. The incident occurred before 8 a.m. before morning classes had begun. Little is known about the now-slain assailant except that he is male. There is no information about motivation or his relationship to the victims. James Leonard, a school spokesman, added, "I'm sure more information will come out on the student shortly." 
Update: According to a press conference Wednesday night, two of the four victims were students. Authorities also confirmed that their injuries are not life-threatening. The suspect, who had a hunting knife, was identified Thursday morning as 18-year-old Faisal Mohammad, according to the Merced Sun-Star. Mohammad was reportedly from Santa Clara, California, and had recently entered as a freshman at UC Merced.
The suspect was shot by police, then later died, reported the UC Merced Police Department. In their statement, school officials said the victims were assaulted outside the Classroom and Office Building. Though it was initially reported that all the victims were students, the school has since said that not all of them are. 
While three of the four victims were students, the non-student victim was an Artisan Construction employee, 31-year-old Byron Price, who was working on a renovation in the Classroom and Office building, the Merced Sun-Star reported. Price's father, Artisan CEO John Price, described the morning's events to the Sun-Star, "They heard a scuffle in the classroom right across from where they were working and it sounded like a fight. So (my son) opened the door and the guy lunged at him. It got the (attacker) outside the room, away from others." Price was taken to nearby Mercy Medical Center for treatment and is expected to recover from his injuries. 
UC Merced closed after the incident, and classes were canceled for the rest of the day, according to tweets from the school's Twitter account. UC Merced opened in 2005 and is the newest UC campus, according to its Twitter profile.
Image: University of California, Merced/Wikipedia Commons