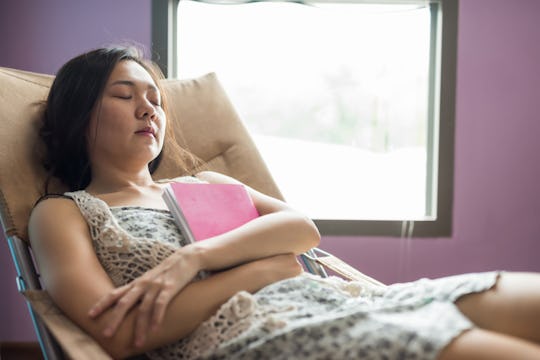 Blanscape/Shutterstock
4 Surprising Times When You Shouldn't Nap, No Matter How Tired You Are
Kids don't know when they have it good. Your average 3- or 4-year-old sees a nap as something only less slightly repulsive than Brussels sprouts, while we grownups would sing hallelujah, do a victory dance, and run for the nearest couch if we were required to take a daily rest time. But much as we love any opportunity to sneak in a little shut-eye, there are actually times when napping isn't recommended for adults. Knowing the truth can help you plan the day (or the night, as the case may be) and make you aware of any signs of more serious problems.
Normally, taking a little snooze time during the day can be a good thing, not to mention something that comes naturally. The National Sleep Foundation explains that our bodies' circadian rhythms are set to make us feel tired in the afternoon, so many of us succumb to that urge. WebMD points to studies showing that napping has a number of benefits for adults, including bolstering memory, increasing alertness, boosting our mood, and improving our job performance (how many of us have wanted to campaign for putting a cot in the workplace?).
But there are some circumstances in which taking a nap may not be as beneficial as we think. For example, after an international flight, experts recommend combating jet lag not by napping right after landing, but by going to bed at the local time corresponding to the time you normally turn in. When else should you try to stay awake? The answers may surprise you.