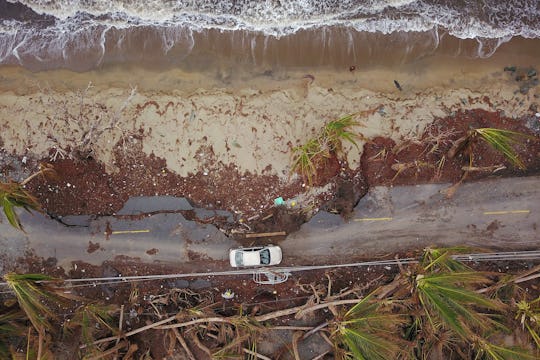 RICARDO ARDUENGO/AFP/Getty Images
4 Things Puerto Rico Still Needs, & How You Can Help
On Tuesday, President Donald Trump visited Puerto Rico to meet with officials and survey the damage after Hurricane Maria devastated the U.S. territory. Trump also took the opportunity during his trip to San Juan to disparage victims of the catastrophic storm, as well as defend the United States' exceedingly slow federal disaster response. The president's deceptive remarks have led some people to believe Puerto Rico is not in dire need of relief, despite news reports stating the contrary. In fact, here are four things Puerto Rico still needs, and how you can help.
According to the Los Angeles Times, Trump told local officials and millions of Hurricane Maria survivors that the United States has done an "amazing job" with its recovery effort, although many have strongly suggested otherwise. The president also said during his televised meeting that leaders in Puerto Rico should be "very proud" that the island's death toll is not in the thousands, comparing the aftermath to Hurricane Katrina, the LA Times reported.
Katrina killed more than 1,830 in 2005 and spanned five states, according to CNN. The majority of fatalities were concentrated in Louisiana, with more than 1,570 dead because of the catastrophic natural disaster. Puerto Rico's official death toll stands at 34 — up from 16 — but that number is expected the rise significantly as the island continues to recover from Hurricane Maria, according to the LA Times.
But fatalities are only one part of the larger picture. Hurricane Maria barreled into Puerto Rico as a Category 4 storm nearly two weeks ago, leaving millions without power, food, water, supplies, medicine, fuel, and basic infrastructure. According to the Washington Post, many residents are catching rainwater in cisterns in order to drink. People have to pull together their already-low food supply in order to feed entire communities. And many people continue to rely on flashlights as their only source of artificial light.
The president didn't seem to grasp the severity of what Puerto Rico is facing post-Hurricane Maria. As the Washington Post noted, Trump visited a wealthy suburb of San Juan that was mostly spared by the storm. Though many residents have lost electricity, property damage in the neighborhood was minimal, according to the Post. Government help has made recovery in the area easier than many other areas of Puerto Rico. In the town of Caguas, however, three people have died and more than 1,200 homes have been destroyed, the Washington Post reported.
Nonetheless, Puerto Ricans have a long way to go on the road to recovery. Here are just a few of the things they need to make that possible.
Power
According to a Department of Defense press release, 95 percent of residents are still without any electricity nearly two weeks after Hurricane Maria hit, ABC News reported. Only 12 percent of people have cell phone service. To help restore electricity, the founders behind Build.com have launched the Power for PR campaign to raise funds to distribute generators (you could donate to their YouCaring campaign here). The Center for Planetary Science is also collecting donations to supply candles and flashlights, among other supplies, to residents in Utuado, Puerto Rico.
Food & Water
Most Puerto Ricans are still without food and don't have access to a reliable source of drinking water. Survivors are sharing what little they have among each other in order to make supplies last. People are using water purification tablets or collecting rainwater in order to have something safe to drink. You could help change the situation by giving canned goods and bottled water to local food banks or charities collecting donations. Organizations in Orlando, as well as Pittsburgh, and even New Hampshire have started food drives to help with Hurricane Maria relief in Puerto Rico.
Medical Care
According to NPR, many hospitals and clinics are still closed nearly two weeks after Hurricane Maria unleashed its wrath on the island. Most of the facilities that are open are running on generators, while only a few have been reconnected to the electrical grid. People are desperate for medicine and medical care, but have little access to either because of dwindling fuel and supplies. To help with medical relief, consider donating to nonprofits such as AmeriCares, Direct Relief, or Heart to Heart International, which are providing medicine, medical care, and aid to Hurricane Maria survivors.
Puerto Rico and other islands in the Caribbean ravaged by Maria should not be ignored. Residents are still suffering from the storm's aftermath, and they need help — and most likely will for months to come.