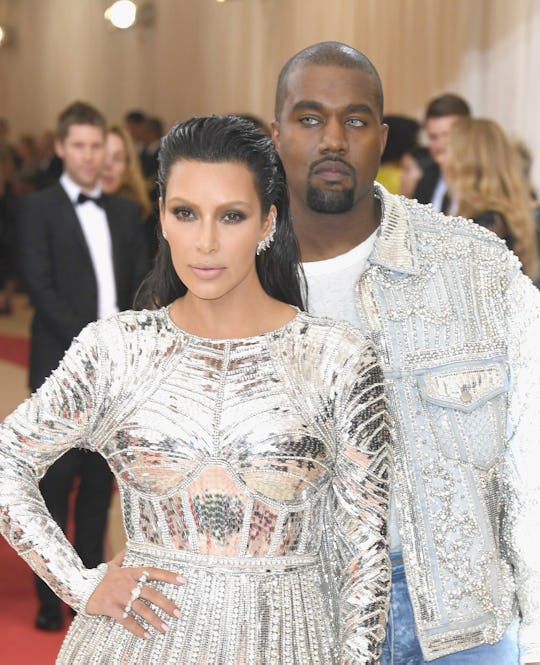 Larry Busacca/Getty Images Entertainment/Getty Images
4 Times Kim & Kanye Were Shamed For Their Parenting Decisions
Sometimes I wonder if hating on the Kardashian family is a national pastime. I'm not sure what it is about the family of reality stars that gets everyone so heated, but it has to be something. I would even go so far as to say especially with Kim Kardashian-West. The new mother of three takes criticism on the chin constantly for so many things; her body, her fame, her clothing, her parenting choices. Kim and husband Kanye West have been shamed for their parenting decisions so many times on social media, sometimes I wonder how they carry on.
Although to be fair here, Kim seems to take the bulk of the heat when it comes to parenting the couple's three children, 4-year-old daughter North, 2-year-old son Saint, and baby Chicago. Rapper and husband Kanye doesn't appear in nearly as many social media shaming campaigns about his kids, which I think says a lot more about the nature of the way our society views mothers than it does about any particular decisions he's personally made. Still, the rapper and business man has taken his share of hits on social media along with his wife. Like back in 2015, when Kanye told a reporter outside the Met Gala that daughter North was his "favorite" child. He was quickly forgiven by social media for this slip of the tongue... sadly, it's not always been so easy to escape the parent-shamers of social media.
They Went To A Movie After Chicago's Birth
When Kim and Kanye welcomed their daughter Chicago West via surrogate on Jan. 15, they were reportedly ecstatic. It seemed like everyone was happy for them for a day or so, and then they decided to spend a night out together. TMZ reported that the couple attended a movie screening for Honor Up, a movie Kanye executive produced. And naturally, the internet immediately turned on them for being *bad* parents.
For the record, the couple left for a few hours, not a month. And I'm fairly certain little Chicago was left in good hands.
Kim Dared To Post A Naked Selfie (Gasp!)
Kim has never shied away from sharing sexy snaps of herself, and she's been shamed hard for it, even by other celebrities. Notable celebs like Better Midler, Chloe Grace-Moretz, and most recently Sharon Osbourne have tried to take Kim to task for sharing nude selfies. When she shared a recent picture on Instagram in the days following Chicago's birth, her followers went after her. Instagram users left judgmental comments like:
Ur a mother stop showing these kind of pics and take more care of yr kids !!!
ily but send these to Kanye not on ig when you have three babies 🤦🏻‍♀️
Go raise your kids
It's almost like people think being a mother and being sexy are mutually exclusive... huh.
When Kim Shared A Photo Of Saint In His Car Seat
When son Saint was 18 months old, Kim shared a picture of him in a forward-facing car seat on Facebook. Eagle-eyed parents didn't just see a picture of a little boy in a car seat — they saw another opportunity to go after the Kid Supply designer. And some of them weren't impressed. The backlash got intense enough for Kim to respond that Saint had reached the weight requirement to be in a forward-facing car seat.
That Time North Wore A Corset
When daughter North West was photographed wearing a corset-type dress, Kim was immediately accused of sexualizing her 4-year-old daughter. While the reality star tends to steer clear of responding to the daily deluge of criticism, she couldn't keep quiet over this one. Kim shared a video of North's cotton dress, which "laces up and looks like a corset," and her critics were effectively silenced. For a minute or so, at least.
So what can we learn from the frequent shaming of Kim Kardashian-West? Here's my take away; mothers are held to a much higher standard than fathers, celebrity or no. Kanye doesn't suffer from nearly as much scrutiny as Kim.
And people have taken to criticizing the Kardashians as pure sport.
Check out Romper's new video series, Romper's Doula Diaries:
Watch full episodes of Romper's Doula Diaries on Facebook Watch.