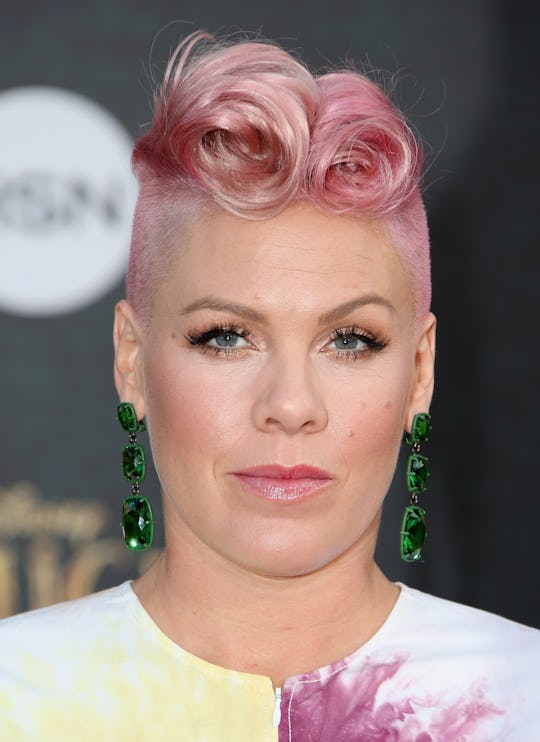 Frederick M. Brown/Getty Images Entertainment/Getty Images
4 Times Pink Was The Most Badass Breastfeeding Mom
Breastfeeding is a full time job. For everyone. It doesn't matter if you're a celebrity or just a regular mom like this girl here, the reality of breastfeeding is this: you're kind of the only one who can do it. No matter who you might be to the rest of the world, to your baby you're basically a breast attached to limbs when they're hungry. Know what I mean? Pink does. The singer has been fabulously forthcoming about her parenting, and there are at least four times Pink was the most badass breastfeeding mom ever.
The singer and her husband Corey Hart are proud parents to 5-year-old daughter Willow and baby son Jameson. Pink gave birth to Jameson on Dec. 28, and has been blissing out on her "delicious" new baby ever since, as she told Ellen DeGeneres during a phone interview in January, according to People. Although initially, the same could not be said for big sister Willow, who was experiencing some sibling rivalry in the beginning:
I literally put Jameson down when she walks in the room. [Willow is] a little weepy these days so we're working it out.
Luckily, Willow has clearly worked it out. As evidenced by this gorgeous pic Pink shared to her Instagram. Here are four times Pink was the most badass breastfeeding mom.
Multitasking Mom
The singer was breastfeeding little Jameson as Willow curled up in bed with her. Every breastfeeding mom out there who has more than one child can look at this and say, Oh, yeah. One baby at the breast, the other draped on top of you... yep. That looks about right.
Pink captioned the picture with a verse by poet Rumi:
'I was dead-I came alive. I was tears-I became laughter.Love's wealth arrived, And I became Everlasting fortune.' -rumi
Healthy, Natural Mom
In honor of National Breastfeeding Day, Pink's husband Corey Hart captured the Grammy award-winning singer breastfeeding then 4-year-old Willow in Helsinki. She captioned the photo:
I proudly post this photo of a very HEALTHY, NATURAL act between mother and child. Taken in Helsinki by a very supportive and proud Papa.
Brave Mom
During a 2012 interview with Ryan Seacrest to promote her attendance at the I Heart Radio Festival, Pink talked about the dark side of breastfeeding then 13-month-old daughter Willow: teeth. According to People, Pink's daughter had six teeth, but that didn't stop her from breastfeeding. This badass mom just switched sides like a champ:
My left is a lot more talented than my right.
Advocating Mom
After TIME magazine released its May 2012 cover featuring a story on attachment parenting with the title "Are You Mom Enough?" to widespread criticism (even from President Trump, no less), Pink was one of the first celebrities to stand up for public breastfeeding. The singer shared another lovely shot of herself breastfeeding baby daughter Willow (the image has since become unavailable) and tweeted, according to BabyCenter:
I felt that the article in TIME on attachment parenting was unfortunately a tad extreme. I support attachment parenting 100%… And have a very happy and healthy little girl to show for it. It's time we support what's healthy (breast feeding) instead of judge it.
Pink has proven to be a fearless supporter of breastfeeding moms. She practices what she preaches; a judgment-free style of parenting based on nurturing, love, and respect.