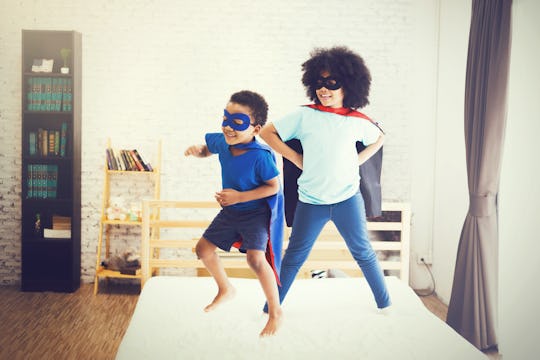 Shutterstock
40 Conversation Starters For Siblings To Get Your Kids Talking To Each Other
Way too often, I find all four of the kids in my home staring at screens like zombies instead of interacting with one another. Even if they aren't on electronic devices, their ability to converse with each other is rudimentary at best. As a parent, it's up to me to help facilitate better communication between my kids, and these 40 conversation starters for siblings are a great jumping off point.
For some reason, I don't see the same connection via conversation with my own children that my sister and I had growing up, or even that I had with my childhood friends where we talked about everything under the sun with each other. The art of person-to-person communication has gone the way of the text message, and while I'm mostly a fan of expressing one's self in written form (I'm a writer, duh), I also understand that my kids are building key relationship skills right in our home when they actually talk to one another.
It may not be easy to make kids do anything, but using one of these 40 conversation starters to get your kids talking to each other just might help break the ice and allow them to open up.