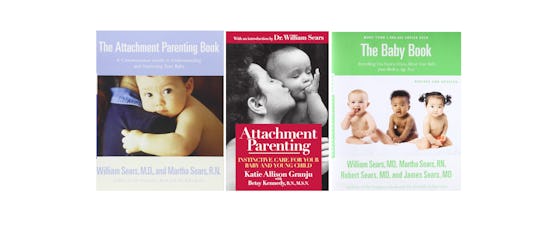 Amazon
These 5 Attachment Parenting Books Are What To Read If You're Curious About AP
Finding the right parenting book for your family can be difficult, especially if you're trying to adhere to a certain parenting philosophy. Attachment parenting books in particular can be hard to come by, since the philosophy is so niche. But there are some helpful options available if you're looking to learn more about how to apply AP in your own life.
Attachment parenting is a philosophy developed by Dr. William Sears, a pediatrician, and his wife Martha Sears, that emphasizes building a strong connection through parental empathy and physical closeness between parent and child, as explained by WebMD. It's different from other parenting philosophies because it's based on a combination of psychological and biological models, as physical proximity is deemed important for a child's development in the practice.
As Dr. Peter Haiman, Ph.D., a certified counselor and expert on attachment parenting, explains to Romper via phone, "We're always growing when it comes to knowledge, but attachment parenting is by far the most up to date scientifically based approach to raising children, especially young children." He describes attachment parenting as an "organic relationship with the child's brain" that allows them to build a connection to their parent through consistent closeness they can count on, and the predictability helps the child form a strong relationship with them thanks to that sense of trust. Attachment Parenting International, a resource for parents who use the philosophy, goes into greater detail on the practices, including the seven "Bs" of attachment parenting.
Attachment parenting isn't right for all families, but it has benefits for those who choose to use it. These books can give you a more wholistic understanding of AP and may help you decide if it would be realistic and beneficial for your family, so read on to find out more. At the end of the day, you just want to find a way to parent that works best for your family.