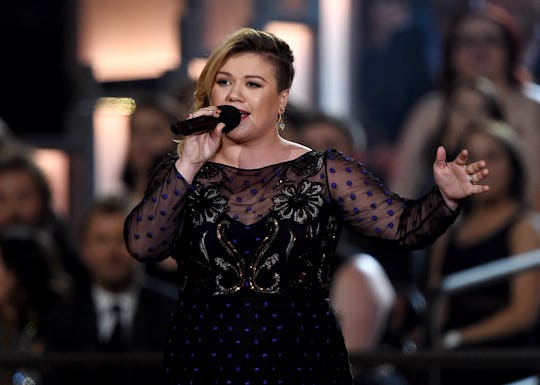 Ethan Miller/Getty Images Entertainment/Getty Images
5 Baby Names For Kelly Clarkson's Son That Are Just As Cool As River Rose
Singer and former American Idol Kelly Clarkson dropped some big news this week. Like big news: news that is driving her fans wild! On Tuesday, the "Since You've Been Gone" vocalist appeared on the radio show "Valentine In The Morning" to talk about her latest song, "Piece by Piece," her pregnancy, her family, and her life. And during the interview, fans got a surprise: Clarkson dropped some hints about her unborn son — mainly that his name will begin with "R." But wait...that's it? That's all we've got to go on? Ah! I'm not sure I can take this suspense! So instead of waiting, I spent hours scouring the Internet to find a few baby names for Kelly Clarkson's son.
Clarkson, announced her pregnancy last August, practically blurting out the news during an LA tour stop:
I was not planning on announcing this, but I'm pregnant — totally pregnant!
Clarkson and hubby Brandon Blackstock already have one child together, River Rose (21 months), according to Biography. She also has two stepchildren — one teenager and one pre-teen. But back to the matter at hand: baby names, because who doesn't love baby names?
Here are five names I hope Clarkson considers for her son:
Reed
If Clarkson decides to stick with the nature-based theme — hello River and Rose — than Reed could be perfect! The name, of Scottish origin, roughly translates to "redhead." However, reed is also the name of a plant: a plant which grows in water.
Radcliff
I've got to say, this name has a really nice ring to it: Radcliff. Radcliff Clarkson. And, like Reed, it is in line with River, as Radcliff means "red colored cliff," according to Baby Names.
Ranger
English in origin, the name Ranger may not be inspired by nature, but it is a strong name, a powerful name, and — selfishly — a name I love. (Because who doesn't want to be named after the coolest '90s show of all time: the Power-freakin-Rangers!)
Rider
Rider, also spelled Ryder, is derived from the Old English word "ridere" and means "one who rides," according to Baby Names. (Think anyone whose job entails riding a horse.) And again, while this name is not as elemental as Reed or Radcliff, it is beautiful and implies something natural and something that is constantly in motion — much like a river is constantly flowing.
Rowland
If Clarkson really wants to shake things up, she may want to consider Rowland, which means "from the rough land" and could be the perfect response to a name like River. Water. Land. Next we need wind and fire? (I kid. I kid. Though I will say, the more I think about this one, the more I like it!)
However, regardless of what name Clarkson and her hubby choose, I hope she and baby are well and I send them nothing but the best.