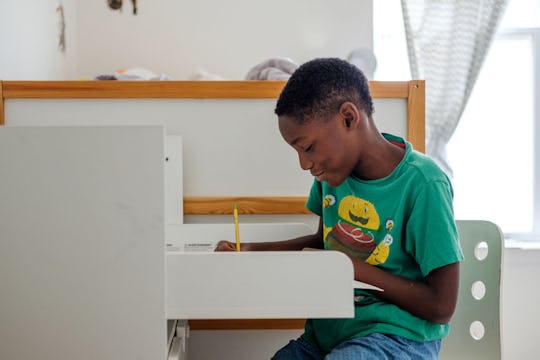 Eddie Pearson/Stocksy
Having A Pen Pal Can Make Your Kid A Better Reader & So Much More
The idea of having a pen pal in the digital age seems whimsical, possibly even antiquated. With all of the rapid fire mediums available to us, why sit down and write a long form letter to someone you don't know? Admittedly, it is initially an awkward endeavor, with the intimacies of the getting-to-know-you stage drawn out over the course of several letters. However, recent research has suggested that there are five benefits of having a pen pal that warrant further discussion.
For many of us who grew up in the '90s, pen pals were children we met at summer camp, or perhaps, kids who moved to a different state, when we wished to continue the friendship. Some intrepid letter writers like myself, found pen pal correspondence services and made friends for life with people a world away. There has been a resurgence in the notion of keeping a pen pal, as the digital world makes quick work of most of our communication. For children, teachers are at the helm of this ship, guiding programs that have been shown to increase cultural awareness, literacy, and personal confidence, according to Western Oregon University.
The forced slowness of the process is in such contrast to the abbreviated forms of conversation, that children might be wary at first, but in time, learning to craft letters can truly be one of life's great joys.