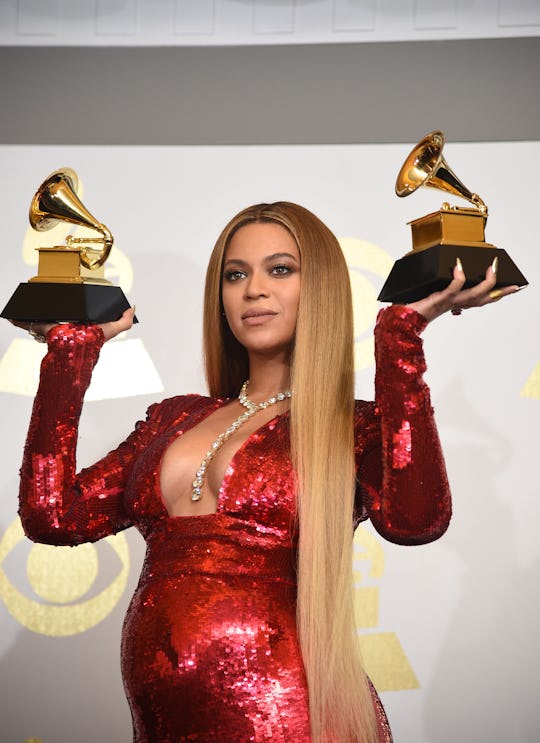 ROBYN BECK/AFP/Getty Images
5 Beyonce Pregnancy Costumes That Will Make You Feel Like The Queen You (Both) Are
Pregnancy costumes can be hard to find. You might think you're stuck with the tried and true (and typically cheesy) options like painting your bump as a pumpkin or dressing up like a jar of "preggo" (get it?). Although the standard costumes may be funny, sometimes you want your one and only pregnant Halloween to stand out. And who does stand out pregnancy outfits better than the queen herself? Beyonce's pregnancy style was continually to die for and replicating her famous looks with these Beyonce pregnancy costumes might be the best idea you've ever had. You're welcome.
You're probably saying to yourself, "Wait, Beyonce's outfits cost ridiculous sums of money, right? How am I supposed to recreate them?" And you'd be right. Beyonce doesn't run the world in cheap clothing. But that doesn't mean you need to spend $130 on a bra (see below) to successfully be Beyonce this Halloween.
Most of these looks can be recreated with pieces you already have in your maternity clothes arsenal. A little black dress? Distressed denim? Black leggings? They're all fairly standard pieces that Beyonce has made fabulous. And you can too with a little bit of creativity and a lot of confidence. Now, pregnant ladies, get in formation, because you're about to own Halloween.