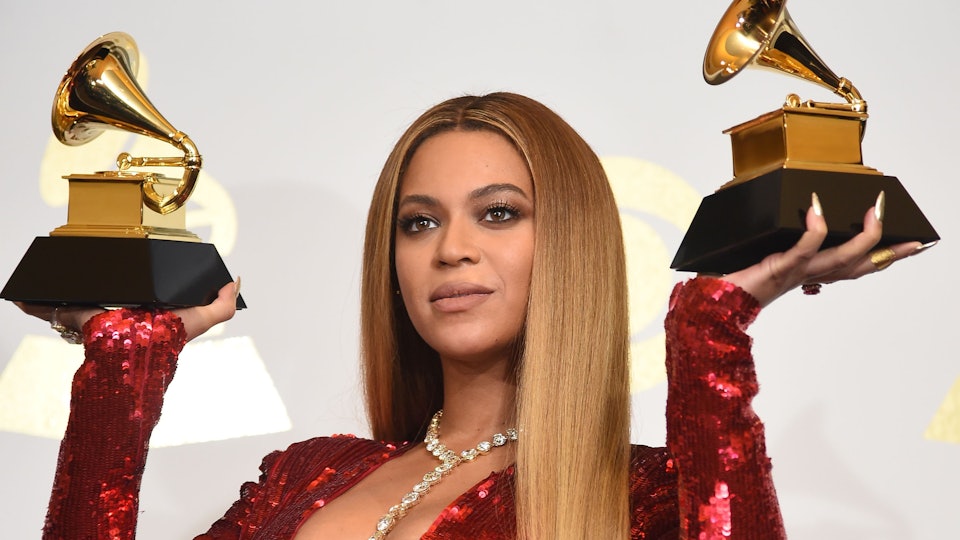 ROBYN BECK/AFP/Getty Images
5 Beyonce Pregnancy Costumes For Halloween That Will Make You Feel Like The Queen You (Both) Are
Pregnancy costumes can be hard to find. You might think you're stuck with the tried and true (and typically cheesy) options like painting your bump as a pumpkin or dressing up like a jar of "preggo" (get it?). Although the standard costumes may be funny, sometimes you want your one and only pregnant Halloween to stand out. And who does stand out pregnancy outfits better than the queen herself? Beyonce's pregnancy style was continually to die for and replicating her famous looks with these Beyonce pregnancy costumes might be the best idea you've ever had. You're welcome.
You're probably saying to yourself, "Wait, Beyonce's outfits cost ridiculous sums of money, right? How am I supposed to recreate them?" And you'd be right. Beyonce doesn't run the world in cheap clothing. But that doesn't mean you need to spend $130 on a bra (see below) to successfully be Beyonce this Halloween.
Most of these looks can be recreated with pieces you already have in your maternity clothes arsenal. A little black dress? Distressed denim? Black leggings? They're all fairly standard pieces that Beyonce has made fabulous. And you can too with a little bit of creativity and a lot of confidence. Now, pregnant ladies, get in formation, because you're about to own Halloween.
1

Sequined And Classy
One of her most iconic pregnancy looks, Beyonce's 2011 VMA performance — when she shocked her fans by revealing her pregnancy — is one of her easier looks to recreate.
If you are lucky enough to find a sequined purple blazer, the rest is simple. If not, a regular purple blazer ($12, Blair) will suffice. From there, add a basic white button-up ($25, Target) and a pair of black maternity pants ($20, Pink Blush). Add your biggest pair of hoop earrings and don some gold fake nails and you're ready to make your grand entrance.
2

Golden Trench Coat
Beyonce posted this ultra-fabulous (yet endlessly comfy) look to her Instagram and luckily for the pregnant mamas out there, it's fairly easy to recreate. Simply grab your favorite skin tight black maternity dress ($32, Old Navy) to accentuate your bump, a golden duster/kimono/trench coat ($22, Amazon), some sunnies ($7, Old Navy), a gigantic sun hat ($10, Amazon), and if you can find them, platform shoes ($40, Rocket Dog) that your '90s self would have freaked out about.
3

Preggers Tee
Luckily, this edgy look is fairly inexpensive to recreate — especially if you already have a few of these basics on hand. First, grab your favorite distressed '90s-esque denim jacket ($25, ASOS). More than likely, you'll be able to find one at a thrift shop for cheap. From there, add the iconic "Preggers" tee ($13, Etsy), or make it yourself with a good ol' sharpie. Wear your favorite boyfriend jeans ($50, H&M), and white converse ($20, Ebay) to easily complete the look. If you're wanting to be extra-thorough, go for the full Beyonce-look with some corn rows.
4

Wearable Art
Beyonce rocked this incredible look to the Wearable Art Gala earlier this year, but with a little bit of creativity, you can recreate it for yourself. The red dress ($11, Wish) is self-explanatory, but you may need to hunt a bit to find one. The cheaper the better, so search thrift stores — you never know what treasures you'll find! For the incredible, wearable art, flower crown, you'll have to get a little creative. Use this tutorial from Plenty to create a Beyonce-worthy flower crown and keep adding flowers till it rivals Queen Bey's.
5

Risque Goddess
Although the lingerie Beyonce wore for her famed "we're having twins" announcement on Instagram totaled more than $200 according to US Weekly, you don't have to break the bank to look just as sexy. Risque Halloween costumes aren't just for the non-pregnant ladies, thanks for Beyonce. Instead of spending $130 on a sheer burgundy bra like the one from Bey's shoot, opt for a cheaper version ($13, Forever 21). And her $95 blue panties? You can wear swimsuit bottoms or cheaper blue panties ($18, Etsy) and still pull off the look. Buy some green tulle ($.70/yard, Joanne) at any craft store and viola! You're Beyonce.
Watch Romper's new video series, Romper's Doula Diaries:
Check out the entire Romper's Doula Diaries series and other videos on Facebook and the Bustle app across Apple TV, Roku, and Amazon Fire TV.