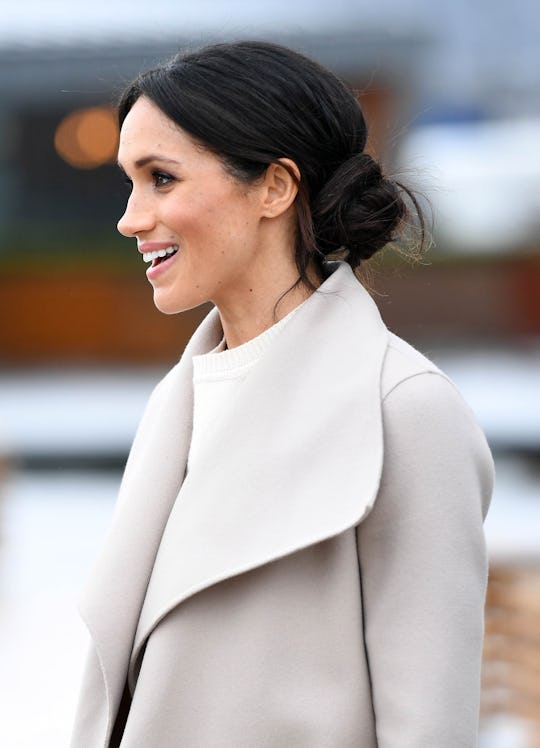 Pool/Getty Images Entertainment/Getty Images
5 Famous People Meghan Markle Is Distantly Related To
In just a few weeks, Meghan Markle will become a royal. But, as it turns out, she's already got a bit of a royal lineage of her own. Meghan Markle is reportedly distantly related to several notable people from history, as per research conducted by MyHeritage.com and reported by The Sun. More specifically, MyHeritage.com discovered several British people that Markle may be related to, making her connection with the royal family even stronger.
Markle was born in 1981 in Los Angeles, according to Biography.com. Her mother, Doria, worked as a clinical therapist and yoga instructor, and her father, Tom, was a television lighting and photography director. Doria and Tom divorced when Markle was 6 years old, according to The Mirror, and Markle has several half-siblings.
When news broke that Prince Harry and Markle were engaged, many expressed excitement that a black woman would be marrying into the royal family. Markle has opened up about being biracial on several occasions, including in a 2015 piece for Elle. "While I could say Pennsylvania and Ohio, and continue this proverbial two-step, I instead give them what they're after: 'My dad is Caucasian and my mom is African-American,'" she wrote.
That being said, Markle is supposedly related to some very British people from history. Here are five Brits of whom Markle is a distant relative.
1. William Shakespeare
Markle is reportedly William Shakespeare's fifth cousin 13 times removed, on her father's side, according to MyHeritage.com. The Elizabethan-era playwright was born in Stratford-upon-Avon, England, way back in 1564, as per Biography.com. That means Markle is not a direct descendent of Shakespeare, but a very distant cousin. The connection comes from the Whalesborough family, of whom Markle and Shakespeare are both descendants. Shakespeare is reportedly a descendant of John Whalesborough, who was born in 1369, and Markle is a descendant of Joan Whalesborough, who was married to John.
2. Winston Churchill
Meghan Markle and Winston Churchill are reportedly sixth cousins five times removed, as per MyHeritage.com. Churchill, former two-time prime minister of the United Kingdom, and Markle are reportedly related through Zachariah Howe (more on him in a moment) and Sarah Howe, a married couple that lived during the the 17th Century. Churchill was born on Nov. 30, 1874, and died on Jan. 24, 1965.
3. Zachariah Howe
As mentioned above, the link between Churchill and Markle is Zachariah Howe, who was born in 1640 and is pretty prominent in his own right. Howe's family was a group of British settlers originally from Essex, a county in England, according to MyHeritage.com. Howe eventually moved across the pond to Massachusetts, where he met Sarah Gilbert, whom he married. As the website explains, Markle is a descendent of the couple's son John Howe, while Churchill is a descendant of their daughter, Sarah Curtis.
4. King Edward III
Markle is reportedly a direct descendant of King Edward III, who ruled England from 1327 until 1377, as reported by the Daily Mail. The findings came from Gary Boyd Roberts, a prominent genealogist. Roberts believes the link is on Markle's father's side, and is attributed to Reverend William Skipper, who moved from England to New England in the United States in 1639.
5. Prince Harry
OK don't worry, this isn't as weird as it sounds. But because Markle is related to King Edward III, it shouldn't be a surprise that she and Prince Harry are technically related — but extremely distantly. The Mail investigated both Markle and Prince Harry's genealogy earlier this year, and determined that they are distant cousins, via a common ancestor who lived in the 15th Century. Prince Harry is related to the ancestor through Queen Elizabeth the Queen Mother (Queen Elizabeth II's mother), and Markle is related through a man named Ralph Bowes, explained the Daily Mail.
One month till the royal wedding!
Check out Romper's new video series, Bearing The Motherload, where disagreeing parents from different sides of an issue sit down with a mediator and talk about how to support (and not judge) each other's parenting perspectives. New episodes air Mondays on Facebook.