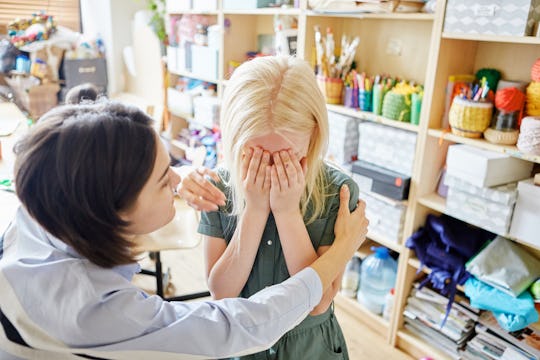 Comeback Images/Shutterstock
5 Genius Ways To Quickly Resolve Any Argument, According To Pre-K & K Teachers
Teaching young children isn't that much different from parenting them. In addition to giving lessons and evaluating skills, preschool and kindergarten teachers spend their days drying tears, bandaging boo-boos, wiping up spills, and urging them to eat, rest, sit down, listen, and not to eat the play dough. Oh, yes, and refereeing the arguments. Allllllll the arguments. But one thing I've noticed as a teacher is that the same strategies we use to resolve conflicts in the classroom can also be used at home when we get into a fight with a spouse, friend, in-law, or other grownup.
That book from the '80s about learning all about life from kindergarten was absolutely spot-on. Early childhood educators are tasked not only with teaching the ABCs, but also instilling and encouraging the social and emotional skills children will use long after they stop taking afternoon naps and playing with blocks. When we're in the midst of a standoff with anyone, be it a loved one or the driver who just smacked into our fender, it's easy to forget those lessons we learned about negotiating.
Whether you're 5 or 35, everyone can use a little refresher course in basic conflict resolution. These are some of the tried-and-true techniques pre-K and kindergarten teachers use to defuse arguments and help students work out their differences. They'll work for you, too — after all, you're a big kid now.