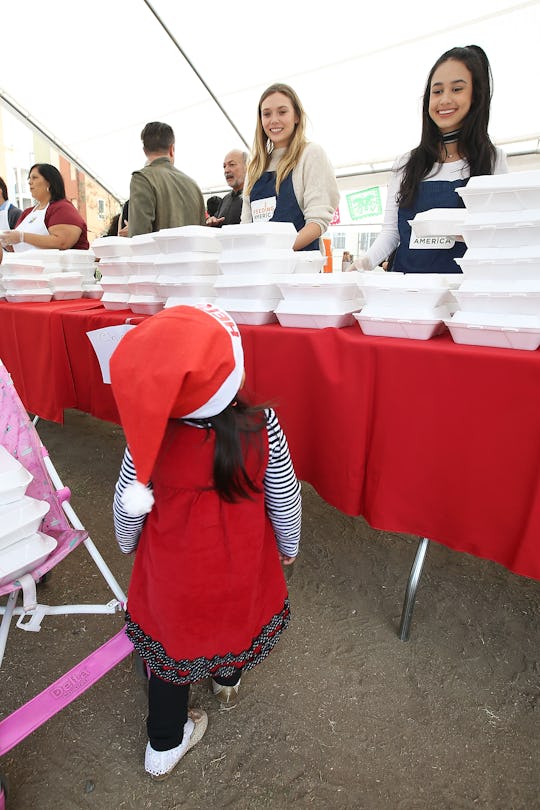 Phillip Faraone/Getty Images Entertainment/Getty Images
5 Organizations To Volunteer For With Your Kids
We are in the midst of the festive season of giving and now is possibly one of the best times of the year to get the whole family involved in an activity that helps others and gives back to the community. There are lots of ways to do this, like volunteering for these five great organizations with your kids. Giving back this way is an ideal family activity because it can help kids build strong morals early on and teach them the important values of compassion, empathy, and gratitude, all while creating a wonderful family bonding experience by doing such a meaningful activity together.
No matter what good deed inspires your kid – such as cooking hot meals for the needy, taking care of wounded or abandoned animals, or chatting and playing games with lonely seniors at a retirement home – there's fortunately a volunteer opportunity out there for everyone. And if you're not sure which one is best for your family, you can always choose to volunteer with an interesting organization one week and spend your time with another one at a different time. However you decide to give back, doing so will make the world a better place in the process.
Let's have a look at a list of suggestions for five kid-friendly organizations you can volunteer for together, with opportunities located across the United States.
Feeding America
According to the organization, 42 million people face hunger in the United States today, including nearly 13 million children and more than five million seniors. Feeding America is the nation's largest domestic hunger-relief organization and you and your kids can help them with their mission to end hunger by volunteering at your local food bank. Pledge to volunteer here and Feeding America will help you find a reputable food back near you.
The Humane Society
The Humane Society is the nation's largest animal protection organization and has opportunities to help needy animals across the country. Kids who have a soft spot for pooches and kitties can help lots of animals at various care centers, organize events, or support rescue and response teams. If you are a family of animal lovers, search for your state here to see how you can get involved.
St. Jude Children's Research Hospital
St. Jude works to find ways to treat and defeat childhood cancer and other life-threatening diseases. This can be difficult reality for some children to understand that other kids aren't as healthy as they are, and teaching them about it could be an insightful lesson.
Check here for volunteer opportunities in your state, where you and your family can help with fundraising, donate toys, or get involved in the St. Jude Trike-A-Thon – a service learning program aimed at daycare and preschool-aged kids.
Feedback
Feedback aims to put a stop to global food waste and while it's based in London, there are many events to get involved with in the United States. But, if you can't find the organization's events near you, Feedback urges volunteers to check with your local supermarkets and restaurants about what they do with surplus food and encourage them to make links with local food redistribution charities.
Making kids aware of this issue can act as a lesson about what can be done with the unused food in their homes and in restaurants by, for example, using those leftovers to feed the needy instead of tossing it. Check here for some of Feedback's upcoming volunteer events in the United States.
The Nature Conservancy
The Nature Conservancy works to conserve the world's lands and waters. So if your kid loves nature and likes to get their hands dirty, then this might the right organization for your family. Check here for opportunities in your state where you can get involved in restoration and conservation projects that can teach kids about how they should treat the environment.
While all of these organizations do good work all around the nation, remember to check in with your local parks, soup kitchens, or hospitals for any other important volunteer opportunities as well. So whichever organization works best for your family's mission, volunteering with your kids is a wonderful way to bond with them while making the world a better place.