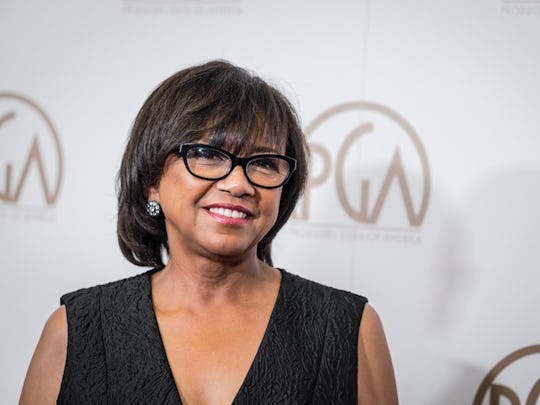 Jason Kempin/Getty Images Entertainment/Getty Images
5 Great Quotes From The Academy President & The CEO On The Oscars' Diversity Problem & How to Fix It
When Academy of Motion Picture Arts and Sciences president Cheryl Boone Isaacs and CEO Dawn Hudson first read the list of 2016's Academy award nominees, they knew they were in trouble. For the second year in a row, all 20 of the actors nominated were white. "It wasn't as inclusive as we hoped for the second year," Hudson told The Hollywood Reporter in an exclusive cover story. "And we knew we were going to have to speak to this issue. It was a long night." Plans were already in the works to make the Academy more diverse, but Isaacs and Hudson knew that once the nominees were announced, they'd have to act more swiftly to rectify the problem. Quotes from Isaacs and Hudson on the Oscars' diversity problem show they're ready to tackle it head on.
So what exactly are they going to do about it? Last week, 51 members of the Academy's Board of Governors met to discuss a diversity initiative, and voted for a new set of rules and the appointment of three new governors. The board reportedly voted unanimously and without incident.
The plan the board came up with was to double the number of women and people of color in the Academy in the next four years. Currently, only 24 percent of members are women, and only seven percent are people of color. Doubling those numbers still wouldn't make the Academy representative of the U.S. population (which is about 50 percent female and 38 percent non-white, according to the U.S. Census Bureau), but it certainly would help. Another important change: requiring voting members to be "active in motion pictures" and to renew that status every 10 years. Inactive members would still technically be a part of the Academy, but would no longer be allowed to participate in the voting process. Here are the five best quotes from Hudson and Isaacs on addressing the Academy's diversity problem.
Why Diversity Within The Academy Is Important
The voting body of the Academy is overwhelmingly old, white and male. And while nobody is saying that all old, white men are racist, they're certainly more likely to watch movies that speak to them, and nominate the actors from those films. Hudson addressed this eloquently, according to the Hollywood Reporter:
That's the most important thing, so that we're not talking about what people chose, we're just talking about who those people are within our membership community. What you put in your DVD player first is what's familiar to you.
Why Complaints Of Ageism From Older Academy Members Aren't Legitimate
Thanks to a lifetime membership policy, many voters are no longer even involved in the film industry. It seems pretty inappropriate to allow someone who made one movie back in the '70s to vote on what makes a good actor in 2016. Hudson told the Hollywood Reporter:
The point was, there have been people in the Academy, they have been selected as members of the Academy, they were working in the film industry at that time, at one point in their careers, and they've moved on to a completely different field, completely different careers, and yet, because we have lifetime membership and lifetime voting rights, they are still voting on what is the best in contemporary film culture.
Why This Isn't A Case of P.C. Posturing
Isaacs said that this wasn't done in response to backlash regarding the nominations:
[W]e were probably going to announce these measures in another month or two, so it wasn't like it was way down the road by any means. But this gave us an opportunity to make it more public and let everybody know it's not that we're just listening, we listened awhile ago and we've been at this for a while.
On What To Expect From Chris Rock
Comedian Chris Rock is scheduled to host the awards, and has stayed largely quiet on the controversy surrounding the nominations, other than a tweet in which he called the Oscars the "White BET Awards." Any chance he'll talk about the issue during the show? Isaacs said she is confident he'll "go there," and she's looking forward to it, according to the Reporter:
Well, we've always known he was gonna go there, right? This is Chris. We know who he is. He is a brilliant, brilliant, observant comedian and performer, and he is a brilliant host. And yes, we want him to, obviously, because way before this, our selection of Chris was to bring some edge and some fun and some funny —intelligent funny — to the telecast. So we know he's going to do that.
On The Boycott By Actors Of Color
Director Spike Lee was just given an honorary Oscar in November, and said publicly that he won't attend the awards show. When asked if the announcement might cause Lee to change his tune, Isaacs answered diplomatically, according to the Hollywood Reporter:
I have no idea. Spike is Spike. He follows his own heart. This is a person we all know. He is faithful to himself, and he made a decision, which he came out with publicly, and it's his decision. But we are very proud of our relationship with Spike.
If he does decide to attend, however, he'll be welcomed "[w]ith open arms," Isaacs said. As for Smith, "[O]f course we would love to have him come this year, next year, any year, all years." Hudson and Bowman's statements make it clear that they're taking the diversity problem seriously. Hopefully their sentiments signal the beginning of real change.