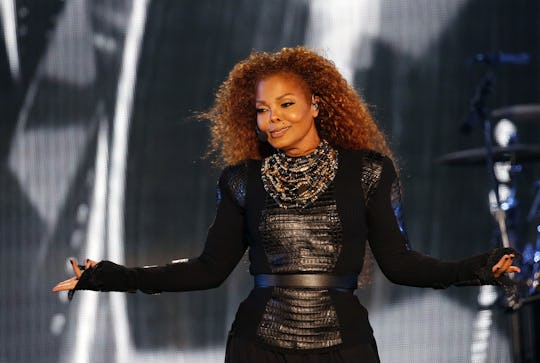 KARIM SAHIB/AFP/Getty Images
5 Janet Jackson Quotes About Motherhood That Suggest She'll Be A Great Mom
Unbreakable star Janet Jackson is nearing her delivery date, and the world is dying to meet her baby — whether it's a girl or boy or twins or triplets (nothing is certain, people!). In preparation for the news, and in order to get a glimpse of what kind of mother Jackson will be, I looked into the magic eight ball that is the internet and found some of Janet Jackson's best quotes on motherhood.
Jackson, 50, first announced her pregnancy with husband Wissam Al Mana in April, when she had to postpone the rest of her Unbreakable World Tour. In a Twitter video, she shared the happy news with fans, explaining:
We're in the second leg of the tour and there actually has been a sudden change. I thought it was important that you be the first to know. My husband and I are planning our family, so I'm going to have to delay the tour. Please, if you could try and understand that it's important that I do this now. I have to rest up, doctor's orders. But I have not forgotten about you. I will continue the tour as soon as I possibly can.
While that's one of the few things Jackson has said about her own pregnancy (she and Al Mana are notoriously private), she has spoken about her desire to be a mother in the past, as well as motherhood in general. Check out her best quotes below:
On Her Desire To Be A Mom
"I would love to have children of our own, but we also would love to adopt," Jackson told ET in 2008, when she was with then-boyfriend Jermaine Dupri. "So, we'll see what happens. It'll happen someday."
On What She'll Be Like As A Mom
"I hope [I'd be a good mother]," Jackson told Piers Morgan on CNN in 2011. "Everyone tells me, for the longest [time], they've told me, 'Oh, you'd make a great mother.' And I'm like, 'Why?' [People would tell me], 'You're very nurturing. You're very mothering and you take care of people all the time.' And yada, yada, yada. And so, I don't know."
When an ET correspondent suggested Jackson would be the best mom in the world in 2008, Jackson said, "Well, I hope so. People say that, but I hope so."
On Getting Pregnant
During a 2010 Access Hollywood interview, Jackson was asked whether she had plans to have kids. Smiling, Jackson responded:
You have to ask God. And once you ask him, will you let me know what he says? I would love to, I would love to have a family, but it's in God's hands. So if it's meant to be, it'll happen. I hope it does.
On Making Babies
"I would hope my legacy would be bringing smiles to faces," Jackson told Harper's Bazaar in 2009. "Happiness with my music. Also, to make babies."
And by that, Jackson didn't only mean her own. "I've had so many people come up to me and say, 'My child was conceived by listening to your music,'" she told the magazine. Now that is a legacy.
On Whether She'd Want Her Kids To Go Into Show Business
Jackson told Harper's Bazaar that she wouldn't encourage it, not unless "it was something they really wanted to do. If they knew what they were up against." Judging by the issues the Jackson family faced with their fame and the media, who can blame her?
Although Jackson always seemed to rely on her faith and the fates when it came to whether or not she'd have kids, she clearly wanted them. "I think that if I'm really supposed to have kids, it will happen, if that's God's plan for me," she told Harper's Bazaar. And judging by her other quotes on motherhood and having children, it seems fairly clear that Jackson's child — who should be joining this world soon enough — is going to be so, so loved by his or her mother.