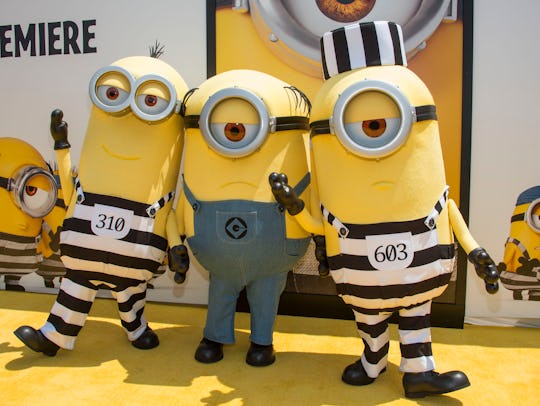 VALERIE MACON/AFP/Getty Images
5 Kid's Minion Halloween Costumes That They'll Love More Than Their Candy Haul (Well, Almost)
If your child lives on planet Earth and is anywhere between the ages of 3 and 12, chances are they're at least a little bit obsessed with the minions from the slew of Despicable Me movies (I lost count after the second one, but I'm pretty sure there are at least 10 by now.) Lucky for you both, the tiny yellow guys make adorable and hilarious fodder for Halloween costumes. If you're on the hunt for minions costumes for kids, your search won't last long, because minions happen to be incredibly easy to dress up as.
Whether your kid's favorite minion is Bob, Kevin, Stuart, or any of the other billion, the costume is simple. Each and every minion looks exactly the same — other than the amount of eyes they have and their height. Not a very diverse bunch, but what the minions lack in diversity they make up for in hilarity and cuteness.
As your child's personal shopper when it comes to Halloween festivities, you have a few options. First, and maybe most convenient, there are a host of store bought minions costumes to choose from. All you have to do is walk into your local Target or Walmart and hunt down the correct size.
Or, if DIY is more your style, you can make a minions costume out of clothes your child likely already has in their closet. A pair of overalls, a yellow t-shirt, and a few other crafty pieces are all you need.
If you have multiple children, dressing them all as minions will only add to the cuteness, chaos, and hilarity of a minion-themed Halloween. And next year, they will be another year older, wiser, and on to their latest obsession, which will probably result in a costume that involves less yellow and gibberish, so enjoy it while you can.