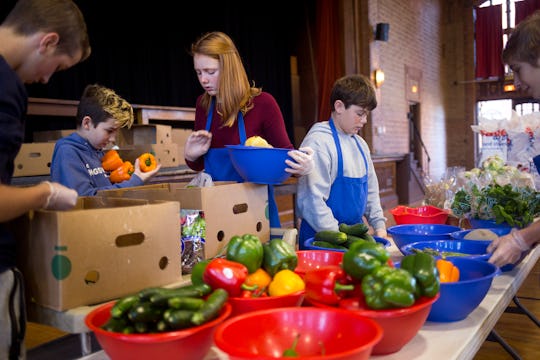 Portland Press Herald/Portland Press Herald/Getty Images
Here Are 5 Places To Volunteer This Thanksgiving, The Holiday For Helping Others
As Thanksgiving approaches, you're probably thankful for many things in your life. And naturally, these feelings of gratitude might cause you to think about those less fortunate and motivate you to make the holiday more meaningful. So if you want to do something to help others (and make a positive impact in someone's life), consider looking at places to volunteer on Thanksgiving.
No matter where you choose to volunteer, one thing is for sure: You will need to be strong in the face of seeing such adversity. While it's hard not to feel sorry for those who may have fallen on hard times, it's best to put on a brave front and do whatever needs to be done (and hold back your tears until later).
Before you head on over to your nearest shelter or soup kitchen, you should also call first. Since there are so many people (like yourself), who might want to help out, these places probably need more help throughout the year and not just on Thanksgiving. That shouldn't deter you from volunteering, though, since many places are in desperate need of help during the holiday season. In the meantime, read on to determine which would be the best place to volunteer — and help spread an attitude of gratitude along the way.