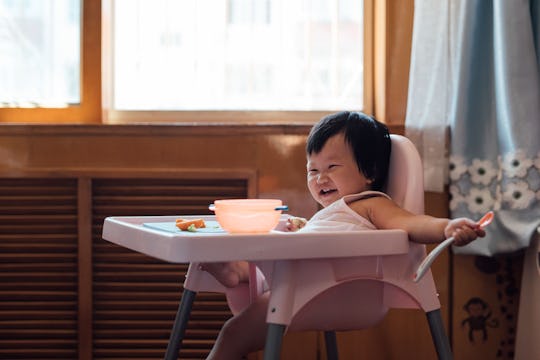 MaaHoo Studio/Stocksy
When Picky Eating Strikes, These Positive Parenting Techniques Will Keep You Sane
Trying to stay patient and upbeat when your child is a picky eater... well, that's challenging. So challenging, in fact, that you'll need a variety of positive parenting techniques for the picky eater in your bag of mom tricks if you want to avoid mealtime battles on a regular basis. While I must admit that overall, my children have been pretty good eaters in their short time on this planet, there have been occasions when they (particularly my younger daughter) would just flat out refuse to eat that delicious, healthy food item on her plate. And I must also admit that I've lost my temper on those occasions, which is why I get the need for those aforementioned positive parenting techniques.
Understanding the root of your child's pickiness (sometimes it's actually not about food at all) will go a long way to creating a more pleasant dining experience with your family. And so will these tips. Of course, if you have any concerns that your child's eating habits might be a sign of something more serious or that your little one isn't getting enough nutrition, always consult your pediatrician.
From my perspective, I pledge not to take it personally when my daughter refuses to eat the broccoli casserole I made, and in return, I'll "practice what I preach" and remember the suggestions below. At least I'll try.