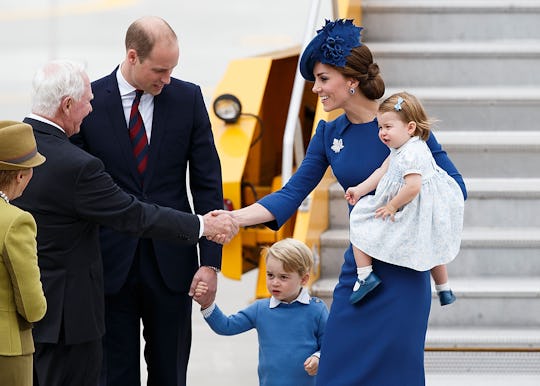 Andrew Chin/Getty Images Entertainment/Getty Images
These Prince William Quotes About His Kids Prove He's A Very Hands-On Dad
Prince William might be royalty, but he's still a dad. And not one of those stiff upper lip, go in the other room while I read my newspaper kind of dads either. Judging from these quotes from Prince William about his kids, I'm going to say he leans towards being a super hands-on kind of dad. And I'm also going to give a whole lot of credit to his mother, Princess Diana, who broke that old royal mold by being a hands-on mom herself, castle and tiara be damned.
Prince William, or the Duke of Cambridge and heir to the throne of England as he's also known, is father to 4-year-old Prince George and 2-year-old Princess Charlotte. He's also expecting another child later this year with his wife, Kate Middleton the Duchess of Cambridge. Now, I'm going to go out on a limb here and assume that you've gotten a look at the tiny royals. Of course you have; they're like characters out of a storybook with their rosy cheeks and old-fashioned clothes and perpetual smiles. The whole world gets a kick out of George and Charlotte, but do you know who seems to get the biggest kick out of them? Their dear old dad.
England's Newest Bobby
If the whole British monarchy falls apart and young George has to try to figure out a job for himself, his father has a pretty good idea of what his son might choose for a career; a police officer. At The Met Excellence Awards at Kensington Palace on Tuesday, Prince William was speaking to the Police Officer of the Year when someone jokingly mentioned the police force was "looking for recruits, if George and Charlotte are keen?" According to People, Prince William answered that his son would jump at the chance because:
He is obsessed, actually, by the police….cars, toys, everything.
Hold Me Closer, Tiny Dancer
If George has a possible back-up career in his future, it stands to follow that Charlotte should as well, right? No worries on that front. Prince William was bragging about his daughter to the Prime Minister of Malta's wife Michelle Muscat and her twin daughter, Etoile and Soleil on Wednesday and said, according to People:
My daughter Charlotte loves dancing.
No Stiff Upper Lip
Prince William, his wife Kate, and his younger brother Prince Harry have all made mental health awareness a top priority in their charity work. And Prince William wants to make sure his children always talk about their feelings, no matter what. During an event to raise awareness for Heads Together, his campaign with Harry and Kate to dispel the stigma around mental health, he told a crowd of people last April, according to Us Weekly:
Catherine and I are clear that we want both George and Charlotte to grow up feeling able to talk about their emotions and feelings. Over the past year we have visited a number of schools together where we have been amazed listening to children talk about some quite difficult subjects in a really clear and emotionally articulate way — something most adults would struggle with.
Thank Heaven For Little Girls
Not long after Charlotte was born in 2016, Prince William gushed about his newly expanded family... and especially his precious little girl. He told the BBC:
It has been fantastic and she has been a little joy of heaven. But at the same time it is more responsibility, looking after two little ones, especially when George is around. He's a little monkey.
Hear Me Roar
On the flip side of that coin, it seems little George had some lungs on him when he was a baby. During a speech at the Tusk Conservation Awards in 2013, William told the audience about his new baby, according to The Telegraph:
As you might have gathered, Catherine and I have recently become proud parents — of a baby who has a voice to match any lion's roar!
Sure, it might be a little on the "girls are like this, boys are like that" scale, but there's something eternally endearing about the way Prince William loves his kids.
Check out Romper's new video series, Bearing The Motherload, where disagreeing parents from different sides of an issue sit down with a mediator and talk about how to support (and not judge) each other's parenting perspectives. New episodes air Mondays on Facebook.