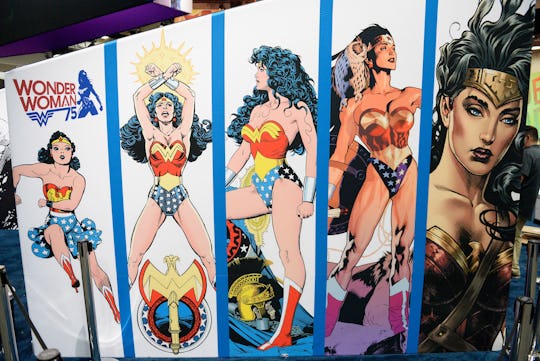 Matt Cowan/Getty Images Entertainment/Getty Images
Comic Book Quotes For #WonderWomanDay
As if it wasn't exciting enough to finally see Wonder Woman on the big screen, it turns out Saturday is national Wonder Woman Day. Today marks the 75th anniversary of the first Wonder Woman comic book, created by William Moulton Marston under the name, Charles Moulton. Marston wanted to create a superhero who valued love over violence, compassion and understanding over physical aggression. And so, Wonder Woman was born. A superhero who knows how to get s**t done, while also being a consistently decent soul. These quotes from the comics celebrate Wonder Woman's endless capacity for compassion... even as she's killing it as a badass warrior princess.
William Moulton Marston actually used women from his own life as inspiration for the comic, according to The Mary Sue. He looked to his wife Elizabeth Marston, a law scholar and a working mother in a time when neither of those things was socially acceptable, as the model for Wonder Woman. Marston valued independence, free thinking, and intelligence in women. And wanted to create a character who embodied all of those fierce qualities. It was reportedly Elizabeth Marston who insisted her husband make the character a woman. The character of princess Diana Prince of Themyscira and her alter ego, Wonder Woman, was decades ahead of its time.
Perhaps because her time is now. As fans gather at movie theaters and comic book stores around the country to celebrate the heroine who has finally come into her time, here are a few of her most famous quotes about compassion, love, and strength.
An Act Of Kindness
Because no matter how small an act of kindness or generosity or simple positivity you put out into the world, it will make a difference.
It's unusual to hear a superhero touting small acts of kindness, and yet this is exactly the sort of behavior Wonder Woman encourages. Which makes her basically the perfect role model for kids who need to know they can make a difference.
Take My Hand
Please take my hand. I give it to you as a gesture of friendship and love, and of faith freely given. I give you my hand and welcome you into my dream.
Wonder Woman, #167
Sure, peaceful resolution isn't sexy. But Wonder Woman isn't about being sexy all the time (sorry, fan boys). She's all about leading by example.
We Have A Saying
We have a saying, my people. Don't kill if you can wound, don't wound if you can subdue, don't subdue if you can pacify, and don't raise your hand at all until you've first extended it. (Wonder Woman, Vol. 3, No. 25)
I have a president I would like Wonder Woman to meet.
You Are Wonder Woman
Go in peace my daughter. And remember that, in a world of ordinary mortals, you are a Wonder Woman.
Queen Hippolyte, Diana's mother, sent her off to help the world with just about the best Wonder Woman quote there is.
Willing To Take The Risk
If it means interfering in an ensconced, outdated system, to help just one woman, man or child…I'm willing to accept the consequences.
Everyone matters. Everyone is worth saving. And everyone is wonderful.
Because we are all Wonder Woman, right? Today, and every day.