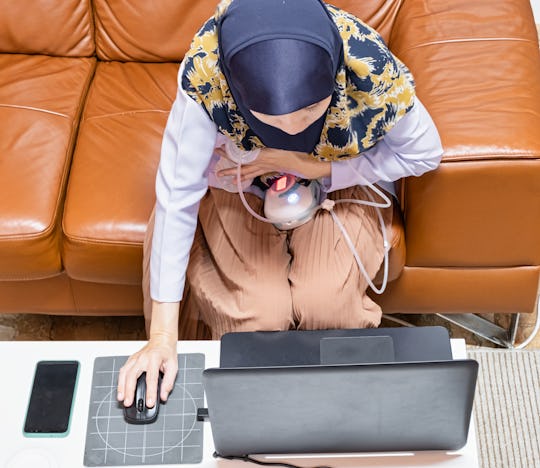 Shutterstock
Exclusive Pumping Is The Absolute Worst, & These Are 5 Reasons Why
Hi. My name is Abi, and I exclusively pumped breast milk for my baby for 13 months. (And what a long 13 months it was.) While I do think it was worth it for my baby — the truth is that it really sucked, at least for me. I was so envious of those women whose babies latched, and all they (seemingly) had to do to feed their child was lift up their shirts and hook their baby to their boob. Those feelings of inadequacy are just one of the many reasons why exclusive pumping is worst of all — in my humble opinion.
There are also a variety of reasons why moms might need to pump exclusively in the first place. In my case, inverted nipples were the culprit, but that's just one potential issue.
"For some moms who may have a preemie, their baby goes to the NICU and pumping is their first option. They are comfortable with it and stick with it," Helen Anderson, MSN, RN, and certified lactation educator tells Romper.
"Transitioning to the breast might feel challenging for both mom and baby, and exclusive pumping is working for them."
Another reason why moms might choose to pump exclusively is because they need to divvy up the parental duty workload.
"Other moms want to share feeding responsibilities with a partner and using pumping and feeding with a bottle is an easy way to do that. Moms that work long hours or have demanding jobs can commonly choose to exclusively pump to avoid nipple confusion or bottle aversion," Anderson says.
Whether you're pumping all the time or some of the time, it's important to remember that your baby is still getting all the benefits of breast milk.
"Many of the same nutrients are present in both pumped milk and breastfed milk," Anderson says.
So whether you have to exclusively pump for one of the reasons above (or another reason entirely), or if you just think it would work best for you and your family, these are some of the reasons the moms I interviewed feel like exclusively pumping is worst of all. Like I said, for me, I feel like it was worth it for my son.
But it was still the worst, y'all.