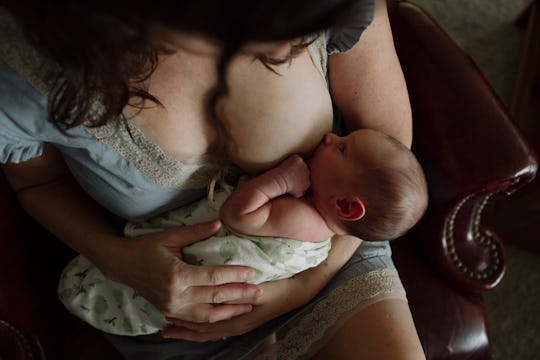 Cavan Images / Getty
5 Reasons Why Breastfeeding Letdown Hurts & What To Do About It
Breastfeeding may be one of the most natural things in the world, but it's not always the easiest. I remember the first two weeks of breastfeeding my daughter being absolute torture every time she latched on, thanks to sore, cracked nipples. But even after we mastered nursing and everything was going smoothly, I was still left wondering why breastfeeding letdown hurts and what I could do to minimize the pain.
For those who aren't familiar, breastfeeding letdown is the release of your breast milk. Lactation counselor Ashley Morris explains to Romper, "Letdown is a reflex and is initiated by various stimuli. The stimulation signals the release of oxytocin — the love hormone. Oxytocin helps the tiny muscles around your milk-producing cells to contract and squeeze milk into the ducts."
It usually occurs once your baby latches on and begins to nurse, but can happen at other times, too, like when you hear your child crying, or if your baby skips a feeding and your breasts are overfull. Not all women can feel the letdown happening, but if you do, you might find it painful. Your breasts might tingle, providing a pins and needles sensation that is reminiscent of a limb waking up after "falling asleep."
I felt my body's letdown reflex often and couldn't help but grimace every time. This feeling is totally normal, but if you're experiencing more intense pain, there might be something else at play, and you should consult with a doctor. But for those experiencing ordinary pains, here are five things that may cause your breasts' letdown reflex to hurt, and what you can to do relieve the pain.
This article was originally published on